It was nothing less than a warm surprise and the best Christmas gift to thousands of fans of the popular BBC detective series Sherlock. The release of the mini episode 'Many Happy Returns' left thousands of Sherlock fans yearning for more. The mini episode that lasts for about seven minutes and thirteen seconds, looks promising as the fans wait on for the January release of Sherlock Season Three.
The anxious ones have to wait till 1 January 2014 for the first episode of Sherlock season 3. That again is no less than an awesome New Year gift.
The eager fans are all curious to know how Sherlock Holmes survived his fall, and where he was hiding in the last two years, after faking his death and the resultant disappearance. Since The Reichenbach Fall, while fans knew and believed that their favourite baker street sleuth is very much alive, there were very few clues to keep them intrigued. But not anymore.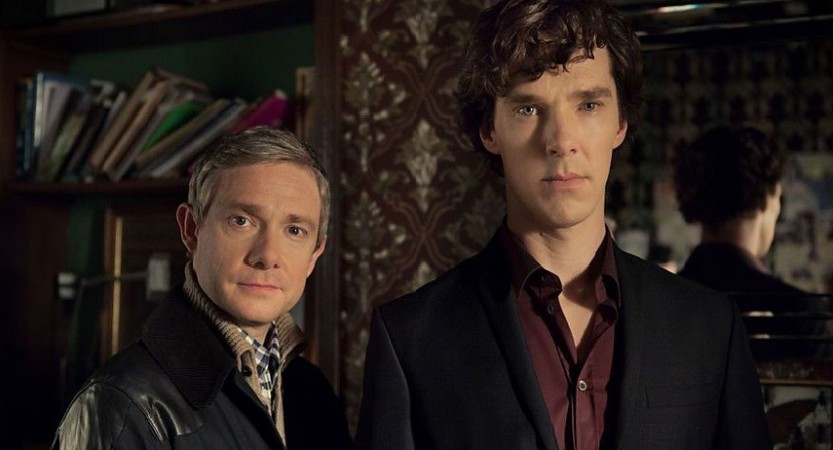 With a perfect timing, the mini episode gives out much hope to the eager fans, while keeping the come back brilliant.
Spoiler AIert - What the Mini Episode is all about!
The episode opens in a Buddhist monastery, in which a blonde woman is identified by the high priest of the monastery as a smuggler. Though the face of the priest is not visible, the viewers will know that the monk in red has an extraordinary power of observation.
Who is he? Is he really Sherlock? Well, in all probability he is. Well in The Adventure of Empty House, Sherlock does mention about his time in Lhasa, Tibet.
The scene then moves to a pub in England, where Anderson (Jonathan Aris) and Detective Inspector Lestrade (Rupert Graves) are discussing about various cases that has the distinct mark of Sherlock. Anderson, who in the absence of Sherlock has become manically obsessed about his disappearance brings up a case in New Delhi, which again bears the mark of a genius such as Sherlock. A parallel reference of this India case is mentioned in The Adventure of The Six Napoleons. He then talks about another case in Hamburg, where Herr Trepoff is proven guilty despite all jurors, except one finding him guilty.
The built up to the first episode - The Empty Hearse is simply fantastic. The wait is not very long, as the Sherlock season 3 debuts on 1 January 2014 in the UK and 19 January in the US. So till then why not watch the last two series all over again and see if you missed anything!