Tying big chunky chronos on your wrist is dated - It's time to go forward and wrap technology on your wrist.
What are your usual expectations from your wrist-tied timepiece? Watching current time, date and day? Or measuring height using an altimeter? Or the current temperature with weather predictions?
But there is more to them than just a chronograph - like a watch that would help you while cooking? And remind you to take your pills or tell you what exactly you need to buy while roaming around in a shopping mall? Notify you when a new email appears, control your fitness and even can control music playback on the same time?
The list goes on - but you can actually expect these entire utilities plus a lot more from a smartwatch. All you need to do is tie up the watch on your hand and connect it with your smartphone and bang.
Let us tell you about the options available in the market and the best one among them. But before doing that let us describe the functionalities of Android Wear in a few words.
What is Android Wear?
According to Google, Android Wear is an edition of Google's Android operating system designed for smartwatches and other wearables. By pairing with Android mobile phones, the Android Wear integrates Google Now functionality and mobile notifications into a smartwatch form factor.
Is your phone ready?
Are you ready for buying one? Before that you need to check your Android phones Operating System's version - if it is Android 4.3 or higher, you hit the spot - or you just need to upgrade the OS version. To check the OS version visit g.co/WearCheck on your phone to see if it's compatible with Android Wear. If so, it will display an image as shown below:
So, the available options are:
Currently there are several models available, while numerous others are just about to hit the shore. The currently available models are Moto 360 by Motorola, G watch by LG, Pebble Wathces by Pebble, Sony Smartwatches, Zenwatch by ASUS and Gear by Samsung and the upcoming models are endless, including Qualcomm Toq and Apple Watch, which would only be compatible with a limited number of iPhone editions.
Features to consider before opening your wallet
Battery Life
The major concern before considering a smartwatch is its battery life. Mostly, we would recommend a back-up of a day or two. A few of the manufacturers reveal the battery specifications on their website while others don't. But featuring bigger capacity battery won't always provide better battery life since it depends on the screen type, size, resolution, processor capability and consumption.
Most of the Smartwatches featuring a LCD or OLED screens are power hungry in particular, while Pebble's 'e-paper' screen consumes less battery. Though 'e-paper' screen don't have that eye-grabbing capability what other colour screens has.
Qualcomm is coming up with a screen technology dubbed 'Mirasol' to cope up with this, but their availability in India would be a major concern.
Meanwhile, we found Moto 360 and Samsung Galaxy Gear features almost similar capability, battery while LG G watch features a little higher.
Processing Capability
We recommend a processor with a bare speed of 500+ MHz is good enough for smooth multi-tasking. Samsung Gear Live, Moto 360 and LG G Watch features higher processor which the Sony Smartwatch 2 lacks.
Screen Size
Most of the Android Gear-based watches feature 1.5inch or higher screen. We think it's good enough for watching and operating all the functionalities in this size. Watches with less than one inch would be too small to see hence we suggest you not to go for them.
Other feature to look for
Always make sure your smartwatch meet some water-resistant standard. And always consider a smartwatch, which accepts voice controls as well. A smartwatch with an inbuilt camera is always a plus.
Price
Pebble Smartwatches price starts from ₹10,900 while Moto 360 is available for ₹17999 on Flipkart at the time of filing this story. Samsung Gear Live retails for ₹15900 while the LG G watch is available for ₹14,999. Both devices are sold through Google Play store.
Our Picks:
Samsung Gear Live
Featuring a rectangular stunning design Gear Live consists a 1.63 inch Super AMOLED display with a resolution of 320x 320. Gear Live also offers easy customisation of the clock face and utilises a simple one-touch device wake-up.
Ensuring its build quality, Gear Live meets IP67 standard, hence able to protect the device from dust and water immersion.
Coupling a 800MHz processor with 512MB RAM and 4GB internal storage, Gear Live is sure to cope up with all available applications.
For Battery life, Gear Live features a 315mAh battery, which would last for a day.
The Gear Live will be offered in Black and Wine Red with interchangeable strap options. It is available at Google Play store for ₹15900 only.
LG G Watch
Available in two models, G Watch and G watch R worth a look. Featuring the same configuration, the models differ only in their dimension.
Featuring a 1.66inch IPS LCD screen LG G is features a good viewing angle with decent visibility under direct sunlight. With a resolution support of 280x280, this watch will sure to appeal you at the first glance.
Powered by Qualcomm 400 Processor with 1.2GHz of CPU, G watch offers 512MB RAM, 4GB storage and a battery capacity of 400mAh.
Compatible with all the apps available till date at Google Play Store, this watch has passed the Ingress protection rating IP67.
The watch is currently available at Google Play Store at ₹14999. If you feel the watch is too square you can opt for Moto 360 or can wait for LG G watch R to appear in India.
Moto 360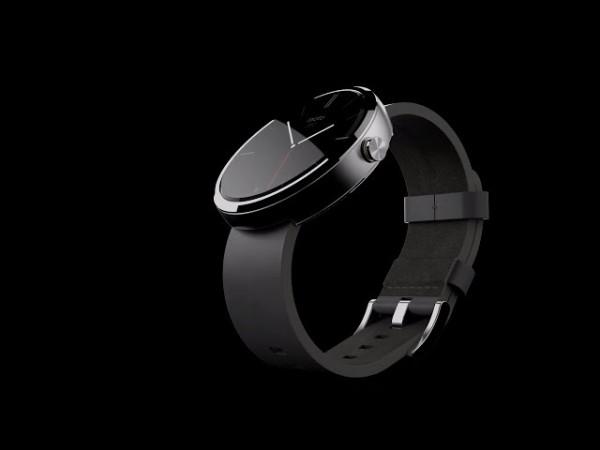 Following a few successful budget android phones this year, Motorola has released a Smartwatch, which is worth a second look. If you allow us to choose the best looking smartwatch among our top picks, we will choose this for sure.
This circular watch features edge to edge pixels on a 1.56inch display board. With a resolution of 320x290 translates to 205 pixels per inch.
Under the hood the Moto 360 features a TI OMAP3630 processor coupled with 512MB RAM and 4GB storage. It also features a 320mAh battery, which is sure to last a whole busy day.
Available exclusively for a pre-order version, this Smartwatch retails for ₹17999 on Flipkart.