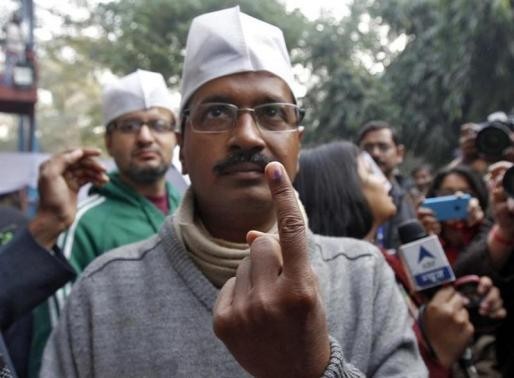 India's political capital Delhi has been facing an impasse for the last three days with Bhartiya Janata Party (BJP) and Aam Aadmi Party (AAP) failing to reach a decision over the formation of the state government. There now remains a question on whether a re-election will be held or if a minority party will be given a chance.
BJP, the largest opposition in the country, is short of a clear majority. But it has made itself quite clear that it will not indulge in horse-trading to make up for its four-seat shortage. "We don't have the required numbers and we don't indulge in horse-trading," BJP Delhi chief ministerial candidate Harsh Vardhan said in his party defence for not staking claim over the Delhi assembly.
The Arvind Kejriwal-led AAP with 28 MLAs in the 70-member Assembly has also rejected Congress' offer of providing outside support. In this context, their options are quite limited. Delhi Lt Governor Najeeb Jung is soon expected to call for the right-wing BJP to form the government and if it refuses, then the second runners-up AAP will be asked to take a call.
Till now AAP has maintained that it will not align with either the ruling party in the Centre - the Congress, or even the BJP. However, if no party forms a government in Delhi, President's rule will be imposed and fresh elections are expected to be announced in the next six months.
Another alternative that should be considered is whether a minority government will be allowed to rule Delhi. Taking an example from history, the Narasimha Rao government had survived from June 1991 to July 1993 without enjoying a majority in the Lok Sabha. With 232 seats Congress along with the 11 seats of its ally, All India Anna Dravida Munnetra Kazhagam (AIADMK), was short of a majority in the 1991 Lok Sabha Polls.
The government still ran a successful minority government for over about two years. Can the same experiment be taken up in the case of Delhi as well?
Speaking to IBTimes, AAP's National Executive Member Prithvi Reddy said that since AAP is not ready to form a coalition with either Congress or BJP, it will be open to a re-election.
"The voters of Delhi have chosen AAP by voting against BJP and Congress. And by joining with either of them, we are being disloyal to them. Hence a AAP will not make a coalition with anyone. The Narshima Rao government did survive as a minority government, BJP can opt for that as well. We are ready for a re-election because, we know now that the voters have understood that AAP is not a subsititute party as BJP or Congress. AAP is rather an effective alternative and we strongly believe, we have fair chances of securing a majority, if there is re-election," said Reddy.