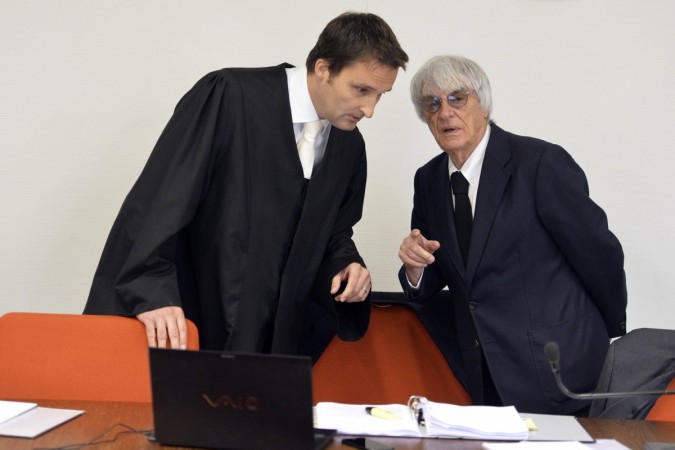 Formula One without Bernie Ecclestone could be a reality soon.
CVC Capital Partners, owners of F1, are to part with a large portion of the 35.5 percent stake as they look to life without Ecclestone, reported The Guardian.
The new investors will take into account the value of Formula One, an insider claimed.
The heads of the firm hold firm on Ecclestone giving up the reins as Formula One's chief executive and commercial rights holder. Furthermore, they insist he should leave, even if he were to be absolved of bribery charges in a Munich court case he's embroiled in.
The bosses of CVC Capital Partners are of the opinion that the business magnate, 84 in October, will only embarrass the firm, according to the report.
HM Revenue and Customs breathing down Ecclestone's neck about his complex tax affairs seems to have made matters worse for him. The HM Revenue and Customs affair has been the centre of an investigation by BBC Panorama.
Who Ecclestone's successor will be has not been made public yet. Reports of Red Bull's Christian Horner being a possible successor are inaccurate as there are many who hold the view that Horner lacks the corporate background that is needed for a job such as this.
With Ecclestone's departure, new investments in the sport may bring about a radical outlook toward F1's promotion. This business, which recorded a £1bn turnover, is in want of marketing department - a glaring fact.
F1 and Ecclestone appear not to see eye to eye on the importance of social media. TV audiences being affected and smaller teams struggling to keep head above water (Carterham was put up for sale on Wednesday) compounds matters, according to the report.
"I had quite a long row with Bernie in a meeting. We have lost 30% of TV audience in Italy and we have lost some of the audience in Germany - although interestingly the UK is growing. Sure the [social media] model does not work yet as you cannot monetise it, but it is just a matter of time," remarked Mercedes motorsport chief Toto Wolff this week.
Ecclestone's court case in Germany, where a verdict is unlikely to be delivered before September, has been in the news, rather than the British Grand Prix at Silverstone.
Ecclestone, who denies being complicit in bribery case, has been accused of paying a bribe of $44m (£26m) to former banker Gerhard Gribkowsky to ensure that the sale of a stake in Formula One to CVC eight years ago went off without any hitches.