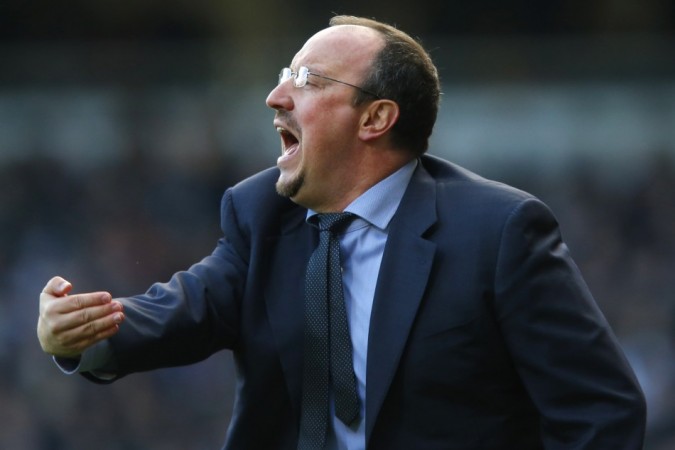 Napoli manager Rafael Benitez, formerly of Liverpool and Chelsea, revealed that his new club reminds him of Merseyside. In particular, Benitez draws parallels between the enthusiasm and passion surrounding football in Naples and Liverpool.
"I accepted the Napoli job because of the enthusiasm and passion surrounding the club. I am keen to repay the club on the pitch," the Spaniard told Minuto 116. "Napoli remind me a bit of Liverpool. We have a lot of quality players and an incredible hunger to win,"
Benitez was also quizzed about the Spain job, which is currently occupied by Vicente del Bosque.
"Would I be open to the Spain job? I hope that Del Bosque remains in charge for a long time, but you never know what will happen in the future," he explained. "I would be interested in coaching the national team at some point."
Benitez is remembered fondly by Liverpool fans. He is only the third manager in the club's illustrious history to win the European Cup after a remarkable final in 2005. The Spaniard was also at the helm during Liverpool's title challenge in the 2008/9 season. His team amassed 86 points and ran Manchester United right to the end in what was an enthralling Premier League season.
He was also instrumental in bringing top quality players to the club, such as Fernando Torres, Lucas Leiva, Xabi Alonso and Pepe Reina. With Torres and Alonso having already parted company with Liverpool, goalkeeper Pepe Reina has recently been rumoured to be nearing his Anfield exit, with Barcelona as the destination. Speculation surrounding Reina's future gained momentum after the club signed Sunderland goalkeeper Simon Mignolet.
The Belgium goalkeeper, however, assured Liverpool fans that he and Reina would compete for a starting position in goal for the Reds.
"That's always what has happened when there's competition," he told ESPN FC. "I've had competition in Sunderland and in Belgium with the national team. It's not only Pepe, there's a lot of good goalies at Liverpool, like Brad Jones for example, and it's not only the position of the goalie where there is competition. It's every single position on the field."
Mignolet said the competition will make him a better player. "Competition can only make you as an individual better and let you perform better. It can only be a positive thing," he said.
The player also gave insight into why he chose Liverpool, citing the club's ambition as the determining factor.
"From the talks I had with him [Liverpool manager Brendan Rodgers] and the goalie coach I felt they were very ambitious and the club wants to get forward," he said. "They want to push on again in the Premier League. It was obvious that they are an ambitious club and a big club."