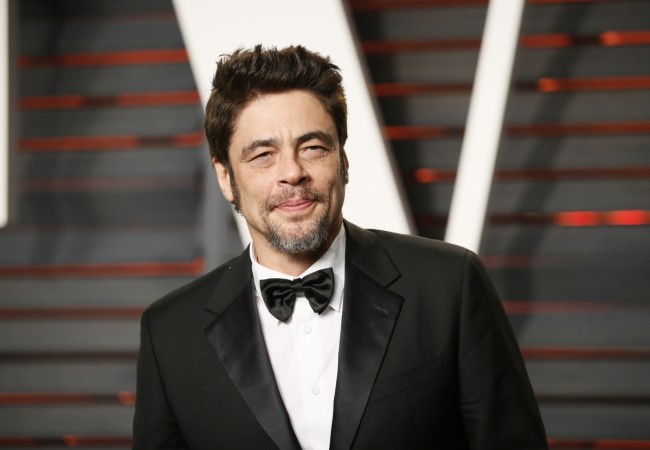 The Collector will now be playing Swiper. Benicio del Toro has been cast as Swiper, the villainous fox in the live action movie of Dora the Explorer, according to THR.
It is being reported that the live-action adaptation – based on the animated Nickelodeon TV show of the same name – finished production two weeks ago in Australia. But apparently casting voice actors after production has wrapped is a somewhat common practice.
Benicio del Toro will be reunited with his Sicario: Day of the Soldado co-star, Isabel Moner, who will be playing Dora. Eva Longoria and Michael Pena will be the other stars joining Benicio in the live action adaptation.
It is being reported that the plot of the movie follows Dora while she's in high school with her monkey pal Boots, and cousin Diego as they solve the mystery to behind a lost Inca civilization, while saving her parents at the same time. In the TV show, the character of Swiper the fox appeared in most episodes to steal Dora's artifacts.
The movie is directed by James Bobin and it will be hitting theatres on August. 2, 2019.
Isabela Moner is a rising star, who has been appearing in summer quite a few movies in recent years. And since the live-action Dora adaptation is being produced by Michael Bay. It isn't much of a leap to see why Isabela was chosen, not only is the actress perfect for the role but she also made her Hollywood debut in Michael Bay's Transformers reboot starring Mark Walhberg. We hope Isabela does a good job as Dora.
Dora the Explorer is a hit Nickelodeon TV show for kids. It became a regular series in 2000. The show is reportedly carried on the Nickelodeon cable television network, including the associated Nick Jr. channel.
The show apparently aired in reruns on "Nick on CBS" for 6 years from September 16, 2000 to September 9, 2006. And we have to say that we just can't wait for the live-action adaptation to hit screens.