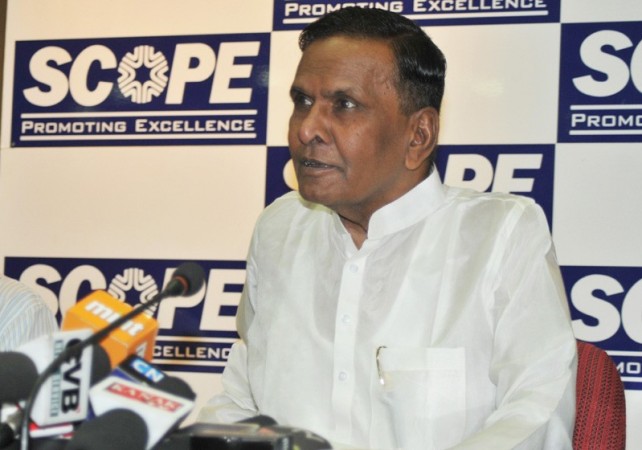 Union Steel Minister Beni Prasad Verma, who on Sunday drew embarrassment for his party with his rationale on high inflation, had another fallout with the Opposition on Monday by saying that the next Prime Ministerial race would be between Gujarat Chief Minister Narendra Modi and the Congress General Secretary Rahul Gandhi.
At the same time, the Union Minister raised alarm to Samajwadi Party Chief Mulayam Singh Yadav, saying that SP is incapable of forming a government at the centre as it lacks an all India presence. The SP chief on Saturday claimed that the party may lead the third front which may be formed after the Lok Sabha elections.
Reacting to Yadav's statements, Verma said, "The government (at the Centre) will either be of Congress or Modi. Why they (SP) are misleading. Does the public not understand all this....? If Rahul Gandhi is our candidate, then the election in the 2014 will be Rahul Gandhi versus Gujrat Chief Minister Narendra Modi. No other party is in between."
Though Rahul Gandhi is expected to resume a bigger role in the Congress, he has restricted himself to the sidelines and is yet to take mainstream responsibility. Meanwhile, the Congress has dismissed reports favouring Gandhi as the next PM of India.
"Singh is the PM and will continue to be. The next Prime Minister will be decided according to constitutional procedures after the elections in 2014," Congress spokesperson Rashid Alvi said.
Congress leader Verma dismissed ideas of any non-Congress, non-BJP party dominating a third front at the government. "There is no future for the Third Front. All the (regional) parties will have to either join ranks with the UPA or the NDA," Verma said according to the Press Trust of India.
Asked about Verma's remarks, Rajendra Chaudary, SP Spokesperson of the UP unit, said, "Beni has proved in recent months that he is a desperate politician who does not know his limitations. There was a time when he used to be a courtier of Mulayam. But now he is speaking against the SP Chief. This sounds absurd. The Congress must check this man."
The congress is yet to recover from the lesion created by Union Steel Minister Beni Prasad Verma who made an absurd remark that rising inflation is a boon for farmers in the country and the UPA government is happy about it.