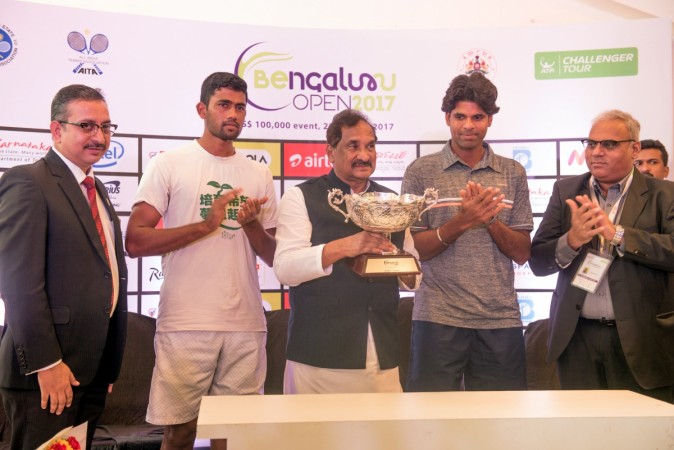 Slovenian Blaz Kavcic has been given the top billing in the US $ 100,000 Bengaluru Open 2017, a premium event on the ATP Challenger Tour being held at the KSLTA.
The top seed, currently ranked 102 on the ATP list owing to his early exit from the Pune ATP will be looking to make amends next week. Kavcic will meet 248th ranked Brkic Tomislav of Bosnia in the first round on Monday.
Meanwhile, Minister for Bengaluru Development and Town Planning, Mr. KJ George picked the draw and also unveiled the trophy along with Kumar Pushkar, Managing Director, Karnataka State Tourism Development Corporation, M Lakshminarayan, Addl. Chief Secretary for Govt. of Karnataka and Hon. Vice President, KSLTA, and Stephane Cretois, ATP Supervisor.
Bhambri faces compatriot Balaji in first round
Spaniard Adrian Menendez Maceiras, ranked 126 is seeded second and will meet a qualifier while world number 137Yuki Bhambri, who recently won the Pune Challenger, is seeded third and will clash with country-mate Sriram Balaji. Elias Ymer of Sweden is seeded fourth while Ramkumar Ramanathan is ranked fifth.
American Evan King is seeded sixth while Serbia's Pedja Krstin and Kazak Aleksandr Nedovyesov are seeded seventh and eighth respectively. As many as nine Indians have made it to the main draw with the last round of qualifiers slated tomorrow from where four players will make it to the main round.
With a total of US$ 100,000 on offer, the winner will walk away with a cheque of US $ 14,400 but more importantly 100 ATP points. The runner-up stands to gain US $ 8480 and 60 points. The doubles winner will be richer by US $ 6200 while the runners up will take home US $ 3600 while earning 100 and 60 points respectively.
Seeding information
1. KAVCIC, Blaz (SLO)
2. MENENDEZ-MACEIRAS, Adrian (ESP)
3. BHAMBRI, Yuki (IND)
4. YMER, Elias (SWE)
5. RAMANATHAN, Ramkumar (IND)
6. KING, Evan (USA)
7. KRSTIN, Pedja (SRB)
8. NEDOVYESOV, Aleksandr (KAZ)
Results: Qualifying Rounds
Round-1
Abhinav Sanjeev Shanmugam (IND) bt Ivan Sabanov (CRO) 6-1, 6-4; Kunal Anand bt (IND) bt Vishal Punna (USA) 6-2, 6-1; Nitin Kumar Sinha (IND) bt Alexey Kedryuk (KAZ) 6-1, 6-2; Vinayak Sharma (IND) bt Ranjeet Virali Murgeshan (w/o); Lakshit Sood bt Milan Radojkovic (SRB) 6-3, 4-6, 6-4; Shahbaaz Khan (IND) bt Dhakshineswar Suresh 7-6 (3), 5-7, 7-6 (3); Anvit Bendre (IND) bt Sidharth Vishwakarma (IND) 6-4, 4-6, 6-4.
Round-2
Chandril Sood (IND) lost to Antoine Escoffier (FRA) 1-6, 1-6; Abhinav Sanjeev Shanmugam (IND) lost to Borna Gojo (CRO) 3-6, 4-6; Nitin Kumar Sinha (IND) lost to Timur Khabibulin (KAZ) 3-6, 4-6; Naoki Nagakawa (JAP) bt Vinayak Sharma (IND) 6-4, 6-3; Anvit Bendre (IND) lost to Shalva Dzhanashia (RUS) 1-6, 2-6; N Vijay Sundar Prashant (IND) bt Shahbaaz Khan (IND) 6-2, 6-1; Sidharth Rawat (IND) bt Kunal Anand (IND) 6-2, 6-4; Matej Sabanov (CRO) bt Lakshit Sood 6-4, 6-1.