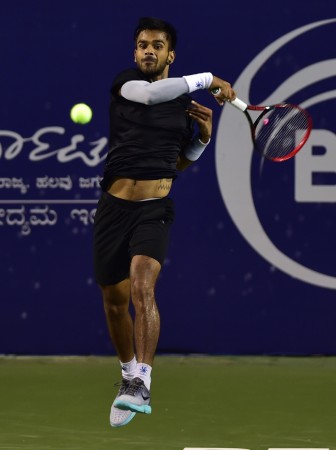 20-year-old wildcard entrant Sumit Nagal stunned top seed Blaz Kavcic in straight sets (6-3, 6-4) in the quarter-final of US $100,000 Bengaluru Open on Thursday, November 23 at the KSLTA Stadium in Bengaluru to set up an all-Indian semi-final against third seed Yuki Bhambri.
World number 321 Nagal was in complete control of the match from the word go and was hardly troubled by his Slovenian opponent, ranked 219 spots above the Indian on ATP rankings. After completely outplaying Kavcic in the first set, winning an impressive 75% of first-serve points, the young Indian started the second on a high by converting a breakpoint as early as in the first game.
Kavcic showed signs of frustration as some close line calls did not go his way as well. Nagal was tested briefly when he trailed 30-0 in the sixth game of the second set. However, he managed to hold on to his nerves and held his serve to extend his lead to 4-2 before wrapping up the match in an hour and sixteen minutes, much to the delight of the home crowd in Bengaluru.
Notably, Nagal had defeated Great Britain's Brydan Klein in three sets on Wednesday, November 22 to reach the quarter-final of an ATP Challenger event for the first time in his career. The young right-hander revealed he had put pressure on himself by thinking about the milestone yesterday, but that he learned his lesson and played with less pressure on Thursday.
"I got little nervous yesterday. That was going through my head. Today, I didn't want to think about it. It was more about the process than the outcome," Nagal said at the post-match press conference on Thursday.
He added: "Today, I was not thinking of winning or losing. It was all about going there and doing my best. So I enjoyed. There were ups and downs during the match. I am still learning and I hope to do things better and better."
Bhambri fends off Prajnesh threat
Meanwhile, Bhambri, the top-ranked Indian men's singles player, survived a tricky test against compatriot Prajnesh Gunneswaran in his quarter-final outing on Thursday. The third seed maintained his calm against his opponent from Chennai, who caught the eye with his forehand returns and booming serves.
Bhambri managed to break Gunneswaran in the 11th game and then held serve in the following game to take the first set 7-5. The Delhi man though was in top form in the second set against his older compatriot, who lacked intensity. Quite a few unforced errors from his opponent meant the third seed eased to a 6-2 win to storm into the semi-final.
Results (Prefix indicates seeding)
Singles Quarterfinals
1-Blaz Kavcic (SLO) lost to Sumit Nagal (IND) 3-6, 4-6
3-Yuki Bhambri (IND) bt Prajnesh Gunneswaran (IND) 7-5, 6-2
LL-Antoine Escoffier (FRA) lost to Tsung-Hua Yang (TPE) 4-6, 4-6
Jay Clarke (GBR) bt Ante Pavic (CRO) 6-2, 4-6, 7-6 (1)
Doubles semifinals
Ivan Sabanov / Matej Sabanov (CRO) bt Tomislav Brkic (BIH) / Ante Pavic (CRO) 7-6 (3), 6-4
1-Mikhail Elgin (RUS) / Divij Sharan (IND) bt 3-M Sriram Balaji (IND) / Vishnu Vardhan (IND) 6-4, 4-6, 10-8
Semifinal line-up singles
Tsung-Hua Yang (TPE) Vs. Jay Clarke (GBR)
3-Yuki Bhambri (IND) Vs. Sumit Nagal (IND)
Doubles final
1-Mikhail Elgin (RUS) / Divij Sharan (IND) Vs. Ivan Sabanov / Matej Sabanov (CRO) bt Tomislav Brkic (BIH)