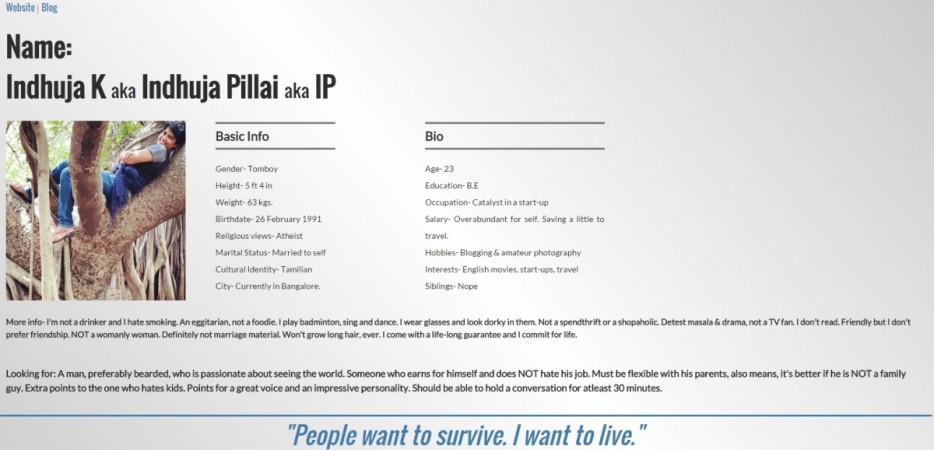 Matrimony is considered an inevitable part of life and parents often coax their children to get married and settle down soon.
When it comes to girls, the family often waits for them to finish their studies and starts looking out for a suitable groom. Similar is the case with engineer Indhuja Pillai aka IP, 23, whose parents started looking for a match by uploading her profile on a matrimonial site, with the details -- Tamilian, single child, 5 feet 4 inches, eggitarian, earning and so on.
However, she realised that the profile does not describe her personality and took it upon herself to create a profile that talks about what she really is looking for. She created a matrimonial website for — "marry.indhuja.com"-- which has received an overwhelming response with more than 2 lakh views and 10k+ likes within days, making her an overnight internet sensation.
"The site went crazy on Friday the 13th February," Indhuja says.
Indhuja, who works in a tech start-up in Bengaluru, describes herself as a 'Tomboy', and an 'Atheist', who loves 'blogging and amateur photography.'
She has also described what she expects from her future husband. "Looking for: A man, preferably bearded, who is passionate about seeing the world. Someone who earns for himself and does NOT hate his job. Must be flexible with his parents, also means, it's better if he is NOT a family guy. Extra points to the one who hates kids. Points for a great voice and an impressive personality. Should be able to hold a conversation for at least 30 minutes."
While some described her as silly and immature, many appreciated her creativity. Some genuinely interested men even wrote to her via Facebook.
"Around 25 people wrote to me expressing their interest, but at this point I am not interested in marriage. I let them know my views", Indhuja added.
http://t.co/bmP7d2p4y2 - Parents can't say I din't help now. #marriage #matrimony

— Indhuja Pillai (@indhujapillai) February 12, 2015