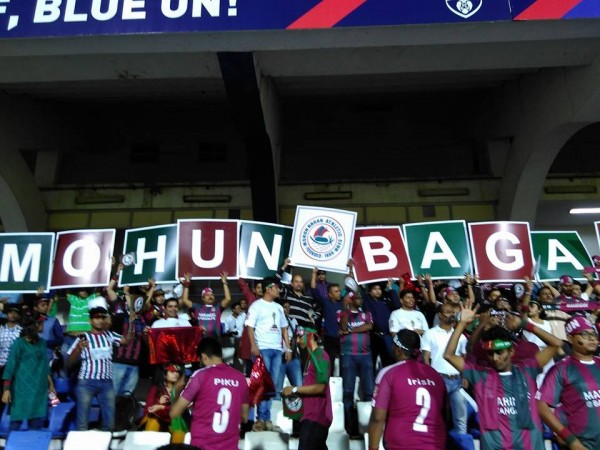 The music was on, the cheers were loud. The festival was just about to start as the fans rained in at the Sree Kanteerava Stadium in Bengaluru, ahead of of the season's biggest game between the home side, Bengaluru FC, and defending I-League champions Mohun Bagan on Saturday.
It wasn't even 6:30 pm IST when the stadium, especially the West Block, started filling up. Rock music, ranging from the hit heart-thumping numbers of Bon Jovi to the head-banging numbers of internationally-renowned progressive rock bands, kept blaring from the loudspeakers, as everyone kept waiting for the match to begin at 7 pm IST.
A clash against Mohun Bagan holds a special importance for Bengaluru FC from now. It was here that, less than a year back, the Kolkata side came, played and conquered -- winning their first-ever I-League title in the process at the Kanteerava.
The BFC supporters started chanting "We hate Bagan" the moment the team started entering the stadium ahead of the game, and the "We hate Bagan" chorus slowly transitioned to "Oh when the Blues go marching in". This was a Super Saturday indeed for the Indian football fans.
One of the most incredible sights at one section of the stadium was of a group of Bengalis wearing bandanas, dressed in everything green-and-maroon, shouting at the top of their voices "Mohun Bagan, Mohun Bagan". Yes, there is a staunch Mohun Bagan fan group termed 'Mariners @ Bangalore'.
And the energetic group made sure to turn the entire match to a complete extravaganza, from the start.
"This ground is very special for us, and this time, we are sure Mohun Bagan are winning the I-League. 'Ebaro jitbo, jittei hobe' (We will win this time, we have to)," Sudipto, one of the members from 'Mariners @ Bangalore' present in the stadium on Saturday, told IBTimes India.
"Yusa Katsumi, Sony Norde and Cornell Glen will definitely be the star of the season this time," said Snehomoy, another Mohun Bagan fan, present at the stadium. On being asked of an Indian name who will be making it big for Bagan this time, he said, "Definitely, Kingshuk Debnath in defence."
The stadium announcer said it clearly at the start of the match that "It is time for revenge", as the Countdown to Kickoff kept ticking. However, even the announcement was overshadowed as the 'Mariners @ Bangalore' kept their duel on with the West Block Bengaluru FC supporters in a war of noise.