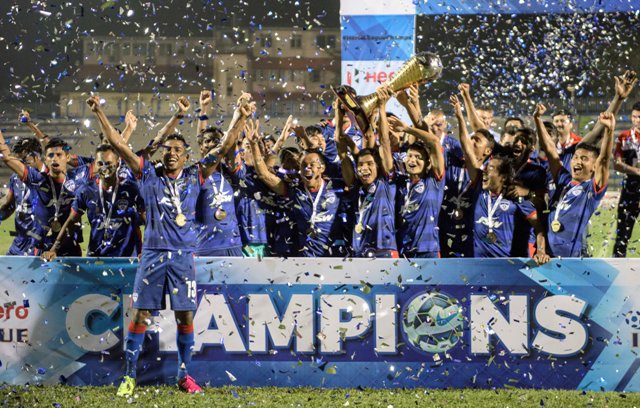 There weren't any supporters of Bengaluru FC at the Kanteerava Stadium in the city on Wednesday during their AFC Cup 2016 quarterfinal match against Tampines Rovers, thanks to the match being held closed doors. That didn't, however, prevent the strong Indian football side from inching closer to the AFC Cup 2016 semifinals.
Let the ongoing agitation over the Cauvery issue in Karnataka take a backseat for now as it is only Bengaluru FC that remains the talk of the town. The home side won 1-0 over the strong Singapore side in their first leg game.
Bengaluru FC started the first half really well and from the way it transpired, one has to credit Albert Roca for finding out the perfect team chemistry and the combination in just some months' time, after taking over from Ashley Westwood. Everyone, from Sunil Chhetri to CK Vineeth to debutantes Cameron Watson and Alvaro Rubio, looked sharp right from the go.
It took just seven minutes for Bengaluru FC to get the first blood through Vineeth. The Kerala forward made use of a wonderful buildup play between Chhetri and Alwyn George to smash the ball home. That was just the start of things.
Rino Anto remained as active as ever in the right wing and his crosses remained plain accurate. Chhetri, too, alongside Eugenson Lyngdoh, were playing the role of perfect playmakers.
For Tampines Rovers, Jermaine Pennant, a former Liverpool and Chelsea player, tried his best to play calculated passes to pick out the likes of Billy Mehmet and Jordan Webb, but somehow the BFC defence got the upper hand every single time. Amrinder Singh, Bengaluru FC custodian, remained relatively untroubled in the half unlike the opponent goalkeeeper Izwan Mahbud.
The second half remained a bit mellowed down as the play was mostly focussed on the midfield. That said, both teams made their defence tight and penetrative balls from both ends were being easily dealt with.
Webb tried his best in the 52nd minute of play to have a shot on goal but BFC defender John Johnson remained up to the mark.
The final stages of the game saw the home team upping their ante even further in an effort to get the second goal of the match. The triumvirate of Rino, Vineeth and Chhetri kept posing trouble for the opposition but they somehow managed to keep the home team at bay. Not until the final whistle however as Bengaluru FC now travel to Singapore for the second leg game with a slender lead.
Can they make it to the semifinals of the AFC competition? That remains to be seen. The return leg is scheduled for Sept. 21.