Here's all you need to know about the Karnataka bandh scheduled on Thursday
App-based cab services may be affected due to the bandh.
"In view of the Karnataka bandh called tomorrow, Ola would like to inform its customers that it could be a likely impact on its services," an Ola spokesperson told International Business Times, India.
A few schools and colleges have declared a holiday on Thursday due to security reasons.
Other educational institutions are yet to decide and said that they will let the students know by evening.
Public transport like buses has said that they will ply only if situations remain calm.
"We don't know whether we will be providing service tomorrow," a BMTC bus driver told International Business Times, India.
A few auto drivers have said that they will remain off the road. However, a fewer number of autos on the road would also mean a surge in auto fares.
Meanwhile, residents who are confused about tomorrow have taken to Twitter to know how to prepare themselves for Thursday.
Dear @Olacabs will your service be affected due to the Karnataka bandh?

— Janki Venkataraman (@dumbspeaks) January 22, 2018
So, tomorrows Karnataka Bandh. I understand schools, shops, bunks would remain closed. Any advice on traveling on the highways, out of Bangalore?

— g_c_mouli (@gcmouli) January 24, 2018
@ola_supports Hi! I was wondering if Ola cabs will be affected on 25th due to Karnataka bandh?

— Apeksha Nichrelay (@SassyInBlack) January 23, 2018
@Uber_Support January 25th is proposed Bangalore Bandh/Karnataka Bandh. Are the services available on that Day ??? Are you participating in the Bandh ???

— Youvarajan (@Youvarajan1) January 23, 2018
IBTimes, India has also reached out to Ola whether the app-based cabs will be functonaal on Thursday. They are yet to comment.
Pro-Kannada organisations and farmers are determined to observe a dawn to dusk strike on Thursday to protest against the delay in the implementation of the Kalasa-Banduri dam project, which if built will divert water from the Mahadayi River to Belagavi, Dharwad and Gadag in Karnataka.
Schools and colleges
A few schools and colleges have declared a holiday owing to security reasons, while other institutions are yet to decide on the matter.
International Business Times India reached out to a few students from schools like Royale Concorde International School and Kensri School and they said that the school will remain shut.
Colleges like Commits (Convergence Institute of Media, Management and Information Technology Studies) will also remain shut tomorrow.
"St. Joseph's Autonomous has issued a notice that they will announce a holiday only if the government gives an official order," Pallabi Samaddar, a student, told IBTimes India.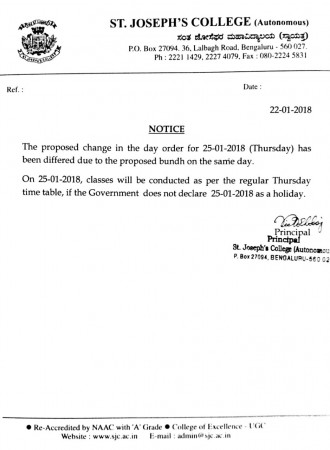 Public transport
It is also doubtful whether public transport will be plying in Bengaluru.
A Bangalore Metropolitan Transport Corporation (BMTC) employee said that "It depends on the situation".
A few auto drivers said that they will remain off the road. The Bengaluru metro is also yet to decide whether they will be plying on Thursday.
Meanwhile office goers in Bengaluru are of the opinion that they will travel to their work places if public transport plies and will otherwise work from home.