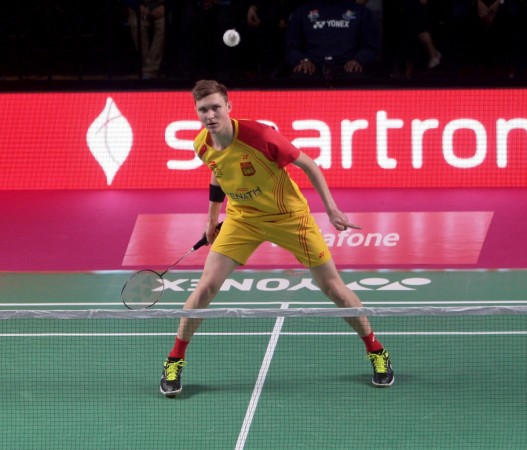 Reigning world champion Viktor Axelsen was in top form on Thursday, December 28 as he crushed China's Tian Houwei in straight games to help Bengaluru Blasters win their opening tie of Premier Badminton League season three against Delhi Dashers in New Delhi.
Axelsen was nominated for the Trump match by the Blasters after Dashers' Sung Ji Hyun defeated Kristy Gilmour in her Trump match to level the scores a strong start from the visiting team.
The Dane though looked untroubled against Houwei as he claimed the second men's singles rubber of the day in straight games.
Men's doubles pair of Mathias Boe and Kim Sa Rang then made it 5-2 in favour of Blasters by beating Dashers' Vladimir Ivanov and Ivan Sozonov in straight games.
Chong Wei Feng stars for the visitors
Earlier in the day, world number 45 Chong Wei Feng of Malaysia came back from a game down to upset higher-ranked Vincent Wong Wing Ki from Hong Kong 10-15, 15-13, 15-8 in the first men's singles match of the day to help Bengaluru Blasters take a 2-0 lead early on in the tie.
The Hong Kong shuttler adapted a clever strategy in the opening game and involved his opponent into long rallies. Chong played into the trap and despite being pushed on the edge of the court, he tried to go for powerplay that cost him dear as he lost the opening game 15-10.
It was a real tough fight in the second game with both the players involved in a close battle with the Malaysian eventually inching past Wing Ki 15-13.
In the decider, Chong Wei completely changed his strategy completely replicating Wing Ki's gameplay. Rather than going for hard strokes, he pushed his opponent long and deceived him with his elegant drops. Wong got completely rattled as he had no answers to Chong's brilliant play and went down 8-15 to give Bengaluru 2-0 advantage.
In the first match of the tie, Bengaluru's mixed doubles pair of Kim Sa Rang/Sikki Reddy walloped Delhi's Vladimir Ivanov/Ashwini Ponnappa 15-10, 12-15, 15-11 to go 1-0 up.
The home team got off to blistering start taking four points on the trot. But the Indo/Korean pair of Blasters crawled up their way with their deceptive yet powerful strokeplay to go up 6-5. Dashers took the next point but two quick points by Blasters saw them go in the break 8-6. There was no respite for Delhi after the break and even though they tried to stay in the game, a string of unforced errors saw them go down 10-15 in the opening set.
In the second game, Delhi changed their strategy with Ashwini engaging in cross-court duels with Sikki and Ivanov going for drops rather than power hitting. The move paid well as they fought back to win the second game 15-12.
In the decider, Bangalore got off the blocks quickly to lead 8-5 at the interval. After the break, things got worse for Ivanov and Ashwini as their error-prone play helped their opponents seal the match by winning 15-11.
Results (Bengaluru Blasters vs Delhi Dashers)
Mixed doubles – Sikki Reddy/Kim Sa Rang bt Ashwini Ponnappa/Vladimir Ivanov – 15-10, 12-15,15-11
Men's Singles – Chong Wei Feng bt Vincent Wong Wing Ki – 10-15,15-13,15-8
Women's Singles – Kirsty Gilmour lost to Sung Ji Hyun [T] - 15-10,8-15, 15-5
Men's singles -- Viktor Axelsen [T] bt Tian Houwei - 15-11, 15-11
Men's doubles -- Mathias Boe/Kim Sa Rang bt Vladimir Ivanov/ Ivan Sozonov -- 15-12, 15-9