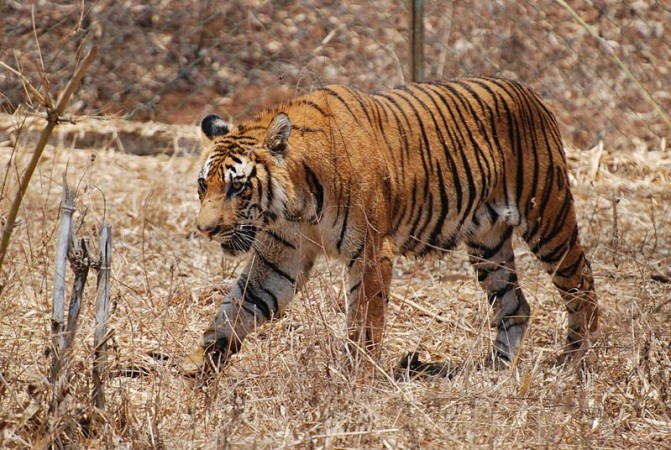 In a shocking incident, a Bengal tiger snatched a fisherman off his boat in Eastern India. The tiger dragged him into a mangrove swamp on Thursday, while the man's son and daughter looked in horror.
The incident occurred when the victim Sushil Manjhi, who lived in Lahiripur near Datta river, along with his children was fishing for crabs in Sundarbans National Park. The tiger suddenly jumped aboard the boat and clamped its jaw against the victim's neck.
"Shortly after we reached the spot, around 7am, we got a whiff of a strange odour. We immediately decided to turn back to a safer zone," Jyotish, Manjhi's son told The Times of India.
"Suddenly, my sister cried out: 'Dada, bagh (tiger)'. I was stunned, and my body froze. All I saw a flash of yellow. It took me a moment to register the gruesome sight before me. My father was completely buried under the beast," he added.
The 40-year-old son and his sister tried to beat the animal with sticks and a knife, but his father was dragged away and was presumed dead.
"It jumped off and landed on the bank in one giant leap. We saw it disappear into the jungle with my father still in its jaws" Jyotish noted. But they didn't dare chase the tiger into the deep woods. "Molina was so traumatized that she lost consciousness. I didn't take any further risk and returned with her as quickly as possible," he added.
The attack highlights the difficulties that millions of poor Indians deal with to make a living often risking their lives to wild predators. Many villagers fish for crabs in Sundarbans, although fishing is illegal in the protected reserve, as the crabs fetch good money at nearby markets.
The Sundarbans National Park is one of the largest reserves of royal Bengal tiger and the recent incident was the fourth attack by tigers in Sundarbans this year, according to wildlife officials.
More than half of the 3,200 tigers in India are believed to reside in the wild forest. But with the increase of India's 1.2 billion populations and the subsequent decrease of land, tiger habitats have shrunk due to which, they are seen loitering in human habitats.
Poaching of the animals has also led to decrease in its numbers. The organs and bones of these tigers are exported to the Chinese market.