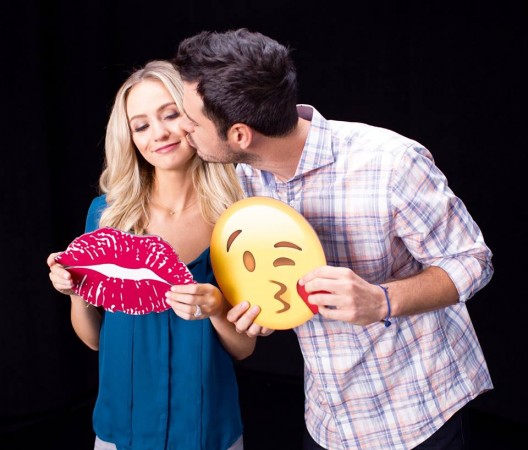 The second episode of Ben and Lauren: Happily Ever After picked up immediately from where it left off in the premiere, with Ben Higgins agreeing to a date with his ex and her new fiancé.
Ben agreed to meet JoJo Fletcher and Jordan Rodgers on a double date with his fiancée Lauen Bushnell, and she wasn't pleased. She was dreading meeting Fletcher, who was a finalist in Ben's season of The Bachelor and also the only other contestant to whom Ben said 'I love you' to.
"Were you so annoyed with how much I talked about you this season [of The Bachelorette]?" Fletcher asked Higgins during their date. Interestingly, this was something that Bushnell brought up during the season premiere of Ben and Lauren: Happily Ever After.
While the double date started off awkwardly, things took a turn for the better once Bushnell saw that Fletcher was genuinely in love with her fiancé.
However, rumours are rife that Bushnell and Fletcher aren't on friendly terms. Recently, when Fletcher was asked if she and Rodgers had seen the Freeform TV series, Fletcher said she does not know anything about the show.
"We were on a flight from L.A. to Dallas that night," she was quoted as saying by Us Weekly. "Did anyone watch it? I don't know anything about it."
The next episode is titled Chad to the Bone and the synopsis reads: "Ben and Lauren go camping and white-water rafting with former contestants from The Bachelor. Later, troublemaker Chad Johnson joins the group in the woods, which leads feelings of resentment to resurface."
Ben and Lauren: Happily Ever After airs on Tuesdays on Freeform.