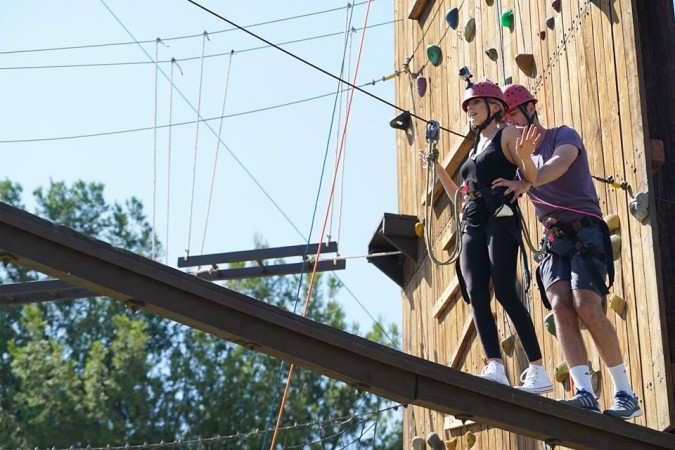 Tuesday's episode of Ben and Lauren: Happily Ever After? was filled with lots of tears after Lauren Bushnell realised that she and her fiance Ben Higgins were not on the same page with respect to their relationship.
Bushnell wanted to fast-track their wedding, but Higgins wanted to take things slow and it seemed he wasn't too keen on getting married to Bushnell just yet. He wanted to get to know her a bit more before walking down the aisle and this prompted him to call off their wedding.
This has sparked speculation that Higgins cancelled their wedding because he still harboured feelings for JoJo Fletcher, who was a finalist in his season of The Bachelor. As fans of the dating franchise know, Higgins said 'I love you' to Fletcher as well as to Bushnell, something that landed him in controversy.
So are Higgins and Bushnell still together? Yes, according to Haley and Emily Ferguson, friends of The Bachelor couple. "I think Ben and Lauren will get married when they're ready," Emily told Us Weekly. "I think right now they need some time to just get to know each other outside of the cameras and outside of the spotlight, just kind of do their own thing. So I think it will take some time."
Haley added: "I think Ben and Lauren will for sure get married eventually — I just don't think it will be anytime soon."
The next few episodes of their reality show will reveal how Bushnell is holding up following Higgins' decision to cancel their wedding. Episode 7 is titled What a Difference a Year Makes and it will see Ben and Lauren celebrating their first anniversary by giving a home makeover to a deserving family who has dedicated their lives to serving veterans.
Ben and Lauren: Happily Ever After is aired on Tuesdays on Freeform.