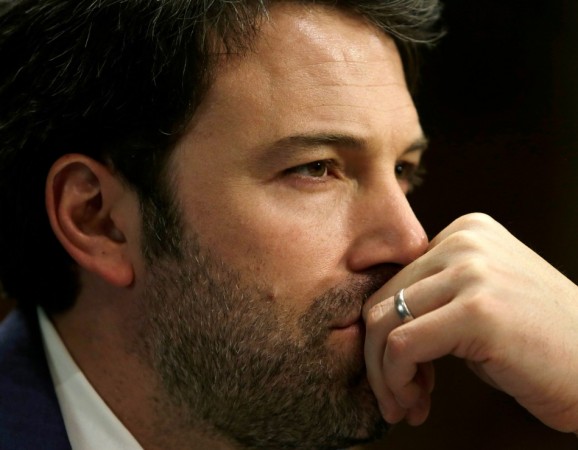 If rumors swirling around are any indication, then a solo Batman movie featuring Ben Affleck will hit the screens sometime in 2019.
The solo Batman movie currently has the title of The Batman and will start production sometime in late 2017 or 2018 reported Latino Review .
After "Batman v Superman: Dawn Of Justice" completes production in December and the production house will start the filming of Justice League sometime in the winter of 2015, according to the report. Affleck, who will be a part of these two movies, will then take a break to prepare for his period gangster film "Live By Night."
The gangster movie is scheduled to hit theatres in October 2016, following which Affleck is expected to return to don the cape. The Latino Review report also speculates the possibility of Affleck directing the stand alone Batman movie, considering that his last directorial venture, Argo, grabbed the Oscar for best picture .
Rumors of the possibility of a solo Batman movie started doing the rounds when journalist Nikki Finke recently revealed in her blog a line up of all the movies Warner Bros has in line for the next few years.
Batman V Superman will come out in May 2016, followed by Shazam in July and Sandman scheduled for a Christmas release, according to Finke's sources.
The year 2017 will see the release of Justice League, Wonder Woman, and Flash and Green Lantern team-up. The only film scheduled for 2018 appears to be Man Of Steel 2, and this fuelled speculations that a solo Batman movie might be in the offing either in 2018 or 2019.
However, these plans could change depending on how Affleck is accepted by the masses following the release of "Batman V Superman: Dawn of Justice."
When Affleck was initially announced as the next Batman, a majority of people were upset with the choice, and a petition was launched to have him removed.
"His acting skill is not even close to being believable as Bruce Wayne and he won't do the role justice. He's not intimidating enough for the role of Batman. Batman is someone that strikes fear in the hearts of men. His portrayal of Daredevil was atrocious and he's not remotely close to an action star or a superhero. Please find someone else and deliver to the fans what they want," a petition on Change.org read.
As of June 21, 2014, the petition has more than 97,000 signatures.