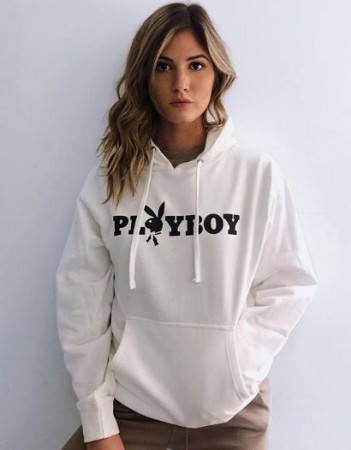 Playboy model Shauna Sexton gave her fans something to talk about with her new Instagram photo. In a black-and-white photo, Ben Affleck's former girlfriend flaunted her derriere in a thong swimsuit.
Adding on, she slicked back hair and hung a jacket over her shoulder. Sexton's admirers were impressed with the image, and were quick to comment on her picture.
Earlier this month, the 22-year-old model had given a sneak peak of her professional life. Sexton proved she is not afraid to show off her body on social media and posed nude for a photoshoot. She captioned the image: "Tuesday mood: This.. but on a grand piano in my foyer.. surrounded by 6 men I pay absolutely no attention to.. feeding me grapes and fanning my body.. while John Mayer's 'Your body is a wonderland' blasts on my surround sound speakers."
As for her personal life, it was recently reported that Sexton was "scarred" after her two-month fling with Affleck. The two started dating in August and split in October.
A source told Us Weekly: "Sometimes he [wanted] to go out, drink and get girls, and other times [he was] completely sober and going to church."
During their brief relationship, she was blamed for the batman actor's latest stint in rehab. However, she hit back at claims and denied that is her fault.
After she posted a picture of herself with a glass of red wine on Instagram, fans accused her of getting the father-of-three into rehab. She replied by saying: "It's bizarre to me that you can somehow correlate someone's poor decisions to anyone other than that person. Never drank around or with him for the record."
"Ben is a grown ass man, baby," she concluded. "He makes his own decisions. Blaming a 22-year-old for someone's 3rd time in rehab is just ridiculous. He is human. I am a human. You are human. We all are going to f–k up it's just a matter of learning from it. Don't be so quick to throw shade on people. Take a step back, accept that we are all on our own journey, and be a little less critical. Take care xx."