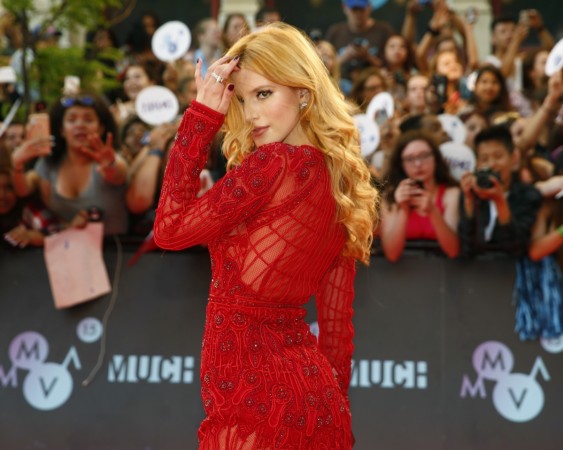 Bella Thorne is currently filming "You Get Me" in California and on Tuesday the actress risked a wardrobe malfunction when her plunging bathing suit nearly exposed her breasts. Thorne was wearing a red swimsuit and high-waist black shorts and she kept adjusting her bathing suit so as to prevent her breasts from spilling out.
Thorne was filming with Nash Grier on Tuesday and things got steamy when they shared a passionate kiss while shooting their new film. The internet is filled with photographs of their hot kiss, sparking speculation how Gregg Sulkin, Thorne's real-life boyfriend, would react to it. And according to a new report, Sulkin is nothing but supportive.
"Gregg is a very confidant guy and knows exactly where he stands in Bella's life. It is a part of the job for Bella and himself to make out with other people so it doesn't bother him," an insider told Hollywoodlife.
"He trusts her," the source continued. "And he knows when he watches anything that she does and those type of scenes come up, she will be right next to him in his arms. He gets to take her home and get the real deal. So he is totally OK with it."
As for fashion disasters, Thorne has been a victim of wardrobe malfunctions before, and last year she revealed to the media that she now has a plan in place to avoid such fashion faux pas on the red carpet.
"There are a lot of things you have to be careful about when picking out a red carpet look," the actress dished to E! News. "The biggest thing is you have to take flash photos of your outfit before you step out wearing it. It happens to people all the time, where the outfit doesn't look see-through and then a flash goes off, and you can see panties, nipples and everything else. It's all out there."