Bella Thorne has never been shy about flashing her skin, and on Friday she gave her Snapchat followers an eyeful in a crop top. Thorne risked wardrobe malfunction while posing for some bathroom selfies when her crop top rode high and nearly exposed her nipples.
The Famous in Love actress paired the white and yellow crop top with maroon bottom and gold boots.
Also read: Drama up in the air? Kristen Stewart may have had an awkward encounter with ex Robert Pattinson
Thorne is currently said to be in a relationship with Kourtney Kardashian's ex Scott Disick. It is not known if their romance is serious, as Disick is often seen partying with other girls besides Thorne.
But Disick recently showed off his sensitive side when he sent her a bouquet of flowers to congratulate her on her success.
"Congrats on the new song," his note read.
He signed it, "Love, Scott,"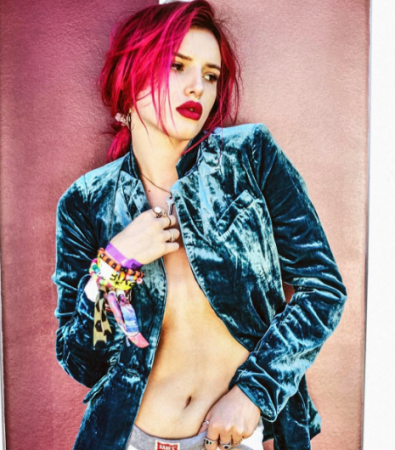 Meanwhile, a People source revealed that Thorne and Disick have kind of an open relationship.
"He's still hanging out with Bella, but hooking up with other girls as well," the source said. "Like before, he and Bella have an understanding."
"They're just hanging out, hooking up and having fun," the source added in the last week of June. "Bella loves to party and is soaking it up. She left a party over the weekend in a rush to go and hang out with him."
The source also added that Thorne loves the attention she gets from hanging out with Disick, who is a constant presence on Keeping up with the Kardashian. He shares Reign Aston, 2, Penelope Scotland, 4½, and Mason Dash, 7, with Kourtney, with whom he was in a longtime relationship before splitting up in 2015.