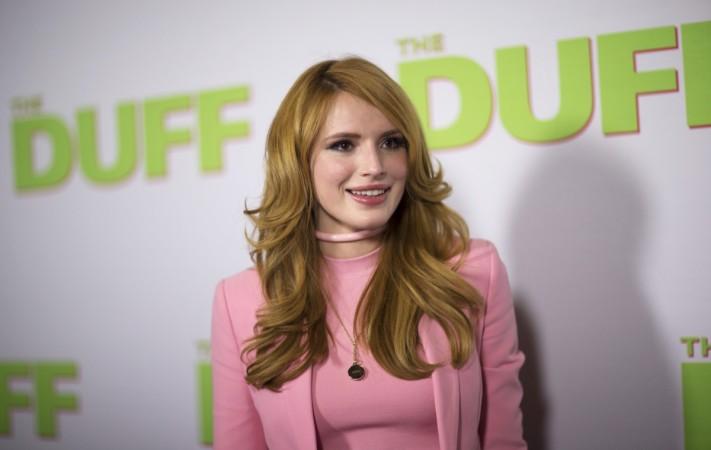 Bella Thorne, who is known for her racy outfits, pushed the envelope on Saturday when she flaunted her assets in a sheer black top. The Famous in Love actress' decision to go braless resulted in her flashing her nipple piercing while out in Hollywood on Saturday night.
The 19-year-old paired the sheer top with dotted detailing with a pair of black satin pants and white boots.
Also read: Piers Morgan knows when to say sorry; apologises to Ariana Grande for misjudging her
Thorne has been grabbing headlines quite often in the past few weeks, first for her fling with Keeping up with the Kardashians star Scott Disick and then for reportedly rekindling the romance with ex Gregg Sulkin.
After hanging out with Sulkin during his birthday party last week, Thorne and Sulkin were once again were spotted out together on Thursday in Los Angeles. Thorne accompanied her former beau to his soccer match and was spotted cheering him on from the bleachers.
Their reunion comes after Thorne was publicly humiliated in Cannes after Disick was seen getting intimate with a bevy of other women. "Yo this #cannes fancy life isn't for me," Thorne tweeted after photos of Disick with other women surfaced.
"Bella is still young and pretty inexperienced, so many people warned her and she didn't listen," a source told HollywoodLife. "She thought she could handle Scott, but she's just not as grown up as she likes to think. She wants to forget she ever even met him. He's hurt her so much that she's swearing off dating.
"She cares a lot about what people think, she's sensitive. She feels very judged and she's embarrassed. She's trying to act like she doesn't care but this has really thrown her, she's been crying on and off since it happened," the source said.