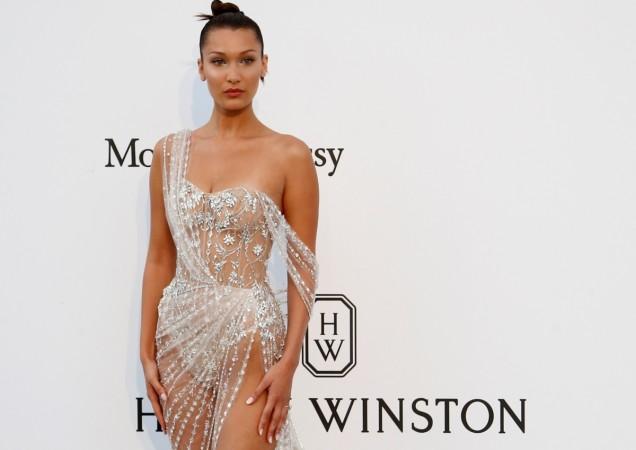 Hail Bella Hadid. The young model has been taking summer fashion to the next level. Not only has she been rocking all the red carpet looks at numerous events, the 20-year-old also took casual to the next level.
Walking out in a grey jumpsuit after a lunch date in Paris, Hadid made heads turn with her style statement.
Also Read: Bella Hadid covers her modesty with a white sheet as she teases fans
The Victoria's Secret model showed the world why she is ranked among the top stars from the fashion industry.
Hadid walked out of Four Seasons Hotel in Paris on Sunday in style. She slipped into a light grey plaid jumpsuit that fitted her slender figure and highlighted her curves. The corset detailing brought attention to her plunging neckline.
Instead of adding a glam factor to her look, Hadid opted to keep it simple as she sported a tiny necklace, letting the outfit steal the spotlight. She ditched the stilettos for a comfortable pair of trainers and sported a chic brown bag for her essentials.
She opted to wear a trendy pair of round sunglasses that most celebrities are pulling off with absolute class including her ex, The Weeknd, and Selena Gomez.
She decided to sport the same look for her flight to the US. She replaced the brown bag with a black bag and added an overcoat on her shoulder.
Through the hectic schedule, travelling from locations to locations and attending a long list of events, Hadid finds time to unwind and look absolutely flawless.
Despite a successful career and high demand, Hadid is grounded and doesn't let it all go to her head.
Talking to Access Hollywood recently, Gigi Hadid's younger sister confessed she is still shocked over her successful modelling career. "Every single job I get, I'm still shocked and I never take it for granted. I always just feel like we all work our butts off."
She understands her success is not only due to her hard work but also because of the efforts put in by her team.