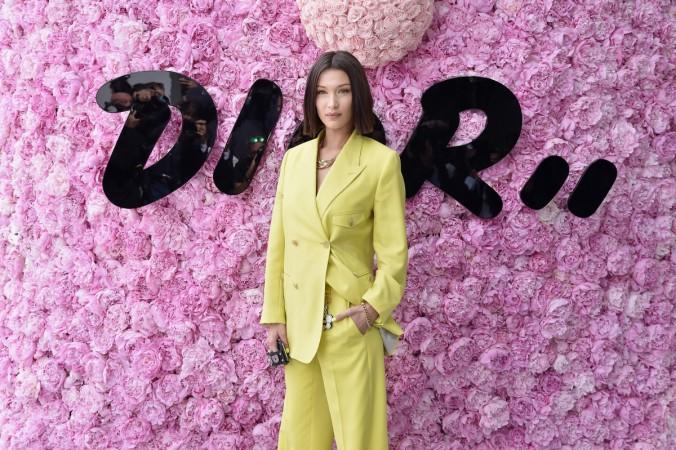 Supermodel Bella Hadid suffered an embarrassing wardrobe malfunction in Paris. The Victoria's Secret model, who ditched the bra for her outing, suffered a nip-slip while getting off a car.
The 21-year-old model was attending a Dior show at the Paris Fashion Week Men when she revealed more than she intended to.
Stylish and chic Bella sported a bight lemon pantsuit for her outing. The blazer featured a plunging neckline that revealed her nipple when she bent to make her way out of the car, Daily Mail reported. Despite the wardrobe malfunction, Bella oozed confidence and power once she made her way into the show.
The brunette perfectly blended style with comfort and class for her attendance. She gave the heels a miss and wore pair of grey trainers with the lemon suit. She accessorised her look with the help of flashy chain bracelet colour coordinated with her blazer, a statement Dior phone case and a blingy necklace.
She opted for a simple short hairdo, partitioned in between. Bella was seen in the company of Kate Moss and Naomi Campbell at the event.

Bella is having a good summer. She is on the top of the street style game and on the personal front, she is back with her ex, The Weeknd. They were first spotted indulging in some PDA at the Cannes 2018.
A source told MailOnline, "Bella and The Weeknd only had eyes for each other in the VIP area of the party. Bella kept coming over and whispering in his ear and kissing his neck. They certainly weren't keeping it secret. They were standing out on the beach in front of hundreds of people."
Later, paparazzi photographed the two taking a stroll in Paris. Some onlookers also shared that the couple was spotted on lunch dates.