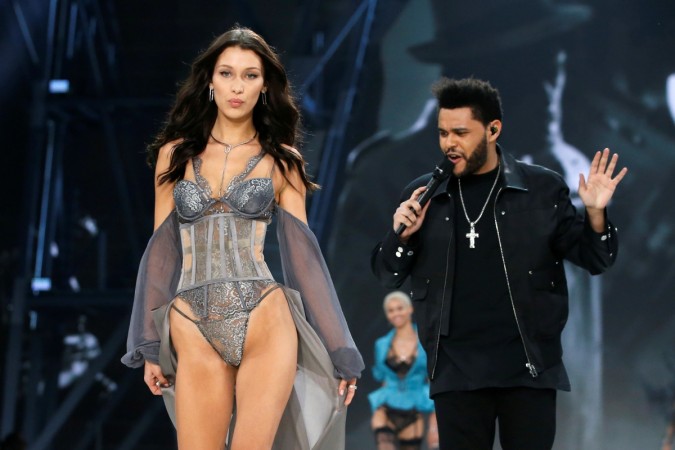 Bella Hadid hit the streets of Paris with friend Kendall Jenner on Friday rocking a sheer number that left little to the imagination. Hadid was not wearing a bra, but she preserved her modesty by throwing a black bomber jacket over the attire.
Also read: Goblin to air 2 new episodes in February; show to be replaced by Tomorrow With You
The Weeknd's ex-girlfriend paired the outfit with a black mini skirt and thigh-high camel coloured boots. Jenner, too, was wearing a sheer outfit, but she covered her breasts with a tan bandeau.
Hadid has been going through a rough patch ever since it was revealed that her ex was dating Selena Gomez. The Weeknd and Hadid broke up in November and early this month he was spotted getting cosy with Justin Bieber's ex. Hadid is said to be devastated that the singer moved on so quickly into another relationship, and this is what prompted Hadid to unfollow Gomez on Instagram.
"She is actually not over The Weeknd. She still loves him," a source shared with E! News. "They are on fine terms, but she is bitter about the romance with Selena. She was not happy when all of that gossip went everywhere between The Weeknd and Selena."
The insider continued, "It really hurt her seeing Selena be all up on her man. She still feels like they have a connection."
The Weeknd and Hadid recently crossed paths during the Madison Square Garden memorial concert in honor of A$AP Yams on Wednesday, but it is not immediately known if they spoke to each other. However, The Weeknd made sure to assure Gomez that there wasn't anything going on between him and his ex, revealed a HollywoodLife source.
"He reassured Selena last night that there's nothing going on between him and Bella," the source said, adding, "He didn't want her reading into anything since they were at the same place."