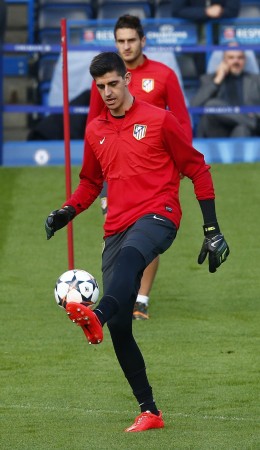 Belgium no.1 Thibaut Courtois feels returing to Chelsea next season would not be the "healthiest thing in the world" for him as he prepares for Atletico Madrid's much-awaited clash against Real Madrid in the Champions League final on Saturday.
The 22-year-old, who spent the last three seasons on loan at Atletico, is yet to make an appearance for the Blues after arriving at Stamford Bridge from Genk in 2011.
It looks like the Belgian wants to be loaned out for a fourth successive season as he feels he will not get enough first team football at Chelsea due to veteran Petr Cech.
Despite admitting his respect for Cech, who has been Chelsea's no.1 since 2004, Courtois feels both of them will be unhappy if he returns to Stamford Bridge next season.
"The two of us want to play everything. Nobody will be happy to play in only the League Cup or FA Cup," Courtois was quoted as saying by BBC Sport. "Things are unclear at the moment. I have the biggest respect for Petr Cech. He is one of the best goalkeepers in the world so I think putting him and me in the same team is not the healthiest thing in the world.
"We will see in the next week if we can sit together with Chelsea to find something for next year, find out what they want, what my desire is. We will see."
The shotstopper also went on to talk about Atletico and Chelsea's Champions League semifinal clash, where the Spanish side emerged victorious.
Courtois was doubtful against his parent club due to a clause in the youngster's contract which stated Atletico would have to pay Chelsea £5 million per match, if the two teams were drawn together in the Champions League and they decide to play Courtois.
However, UEFA stepped in and insisted nothing could stop Courtois from playing, with the goalkeeper then going onto make a series of good saves to knock his parent club out in the semis.
"It was strange and weird knocking out Chelsea. Normally when you win a semifinal you celebrate really hard but I didn't do it because Chelsea bought me and gave me the opportunity to play for Atletico for three years," the youngster added. "I think I showed respect to the Chelsea players and supporters and they to me. It was a nice feeling and hopefully I can give them those things back in the future."