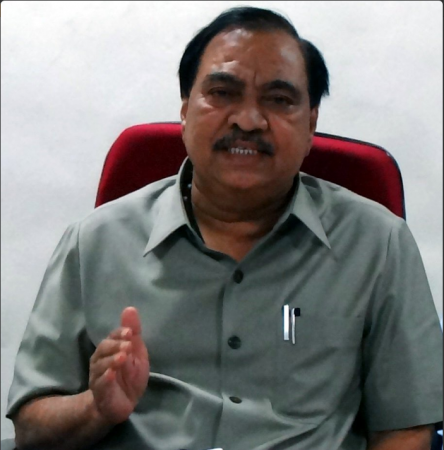 Eknath Khadse, Maharashtra revenue minister, who has been facing allegations of grabbing MIDC land and having received phone calls from 1993 serial blasts accused Dawood Ibrahim, has resigned, according to a report in The Times of India. The Congress has dismissed it as "mere drama" and has demanded criminal case be registered against him.
The daily said though there is no confirmation, news agencies have been reporting that he has put in his papers after the state Chief Minister, Devendra Fadnavis, submitted a report to Prime Minister Narendra Modi on the two matters.
The alleged land scam pertains to Khadse's wife and son-in-law buying from a person a three-acre plot that actually belongs to the Maharashtra Industrial Development Corporation (MIDC) and hence could not be sold by an individual to another.
The Congress has dismissed Khadse's resignation as "mere drama" and wanted action against the BJP leader.
"Resignation drama alone will not do. There are clear cut charges that he was talking to the dreaded terrorist Dawood Ibrahim. The charge is that he has taken government land for a pittance of three crores, 21 lakhs when it is valued at nearly 30-40 crore of rupees. The charge is that he as a minister himself presided over a meeting and ordered double compensation for that land, direct beneficiaries of which were his own family members," ANI quoted Congress spokesperson Randeep Surjewala as saying.
"Would these charges get washed away by mere resignation? The answer is clearly no. A criminal case should be registered against him for misuse of public office," he added.