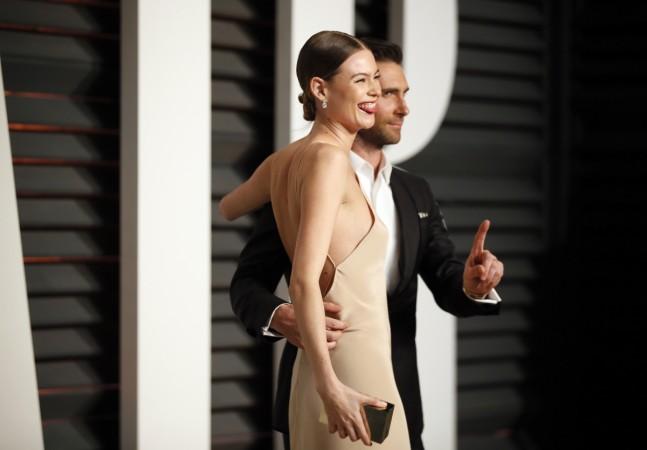 Victoria's Secret model Behati Prinsloo suffered an embarrassing wardrobe malfunction on Monday, while posing for photographs at Tommy Hilfiger's store opening in Paris, France.
According to Us Weekly, Adam Levine's wife's butt was on display when a gust of wind flew up the red velvet dress Prinsloo was wearing. It is not immediately known how Prinsloo reacted to the snafu, but this is not the first time the 25-year-old model has had to deal with a wardrobe mishap.
At the 2015 Oscars, Prinsloo suffered a nip slip while posing with her husband on the red carpet. She was oblivious to the nip slip until her husband came to her rescue. She quickly laughed off the incident, proving she has a sense of humour.
Levine and Prinsloo got married last July, and the "Lost Stars" singer recently revealed that they were looking forward to start a family soon, probably by next spring.
"Oh dude, soon," Levine said when asked about his plans to expand his family, according to Mail Online. "We're looking at the next year. We have some time. Next Spring."
The Maroon 5 singer previously stated that he would love to have more than a dozen children with his young wife.
"[I want] like, 17. Is that reasonable? I love kids so much though. I love seeing kids on the set too. Yeah, we're gonna do it at some point in the not-so-distant-slash-undisclosed-slash-I-really-have-no-idea-big-question-mark future."
However, a source was quoted as saying by Mail Online that Prinsloo feels it's too early to start a family.
"She doesn't want to be a mom just yet. She wants to work for a few more years. Adam is really upset, but there's nothing that will change her mind. Adam has been whining that he doesn't want to be an old dad. He wants to be a daddy right now," the source said.