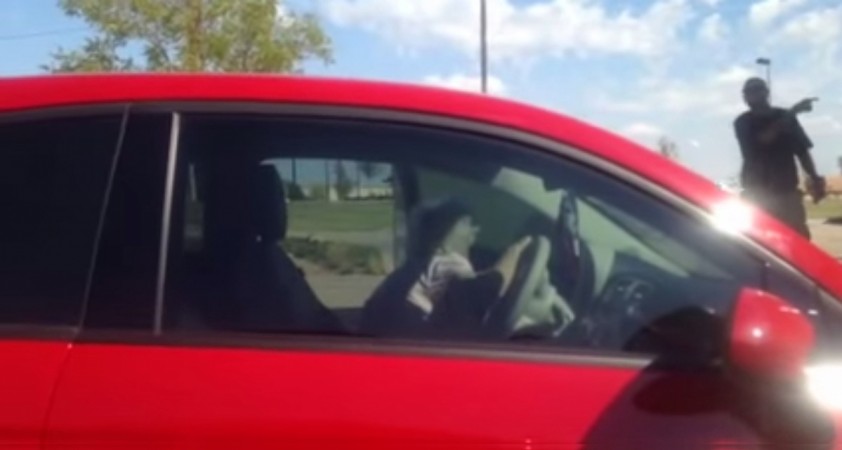 A video in which a man got furious after seeing an elderly beggar, whom he used to give money every day, driving a brand new car, has gone viral on Facebook.
Daniel Ayala, the man who shouts in the video, used to give money to Mary South every day. He has even skipped his lunch to save $4 for the panhandler.
But recently, he was shocked to see the same old lady driving a 2013 red Fiat, according to Mail Online.
In the video, Ayala yells at her, saying, "You are asking for money in the middle of street and you drive a 2013 car?"
"Listen, I work hard for my money. I don't appreciate this s**t. And that's why people like you take advantage of people like me. This is bulls**t! You drive a better car than me!"
Ayala even said that if he sees the car again, he will bust its window. Meanwhile, the woman objects that it is not her car.
The video was captured last week in Oklahoma City by Brandi Newman, who posted it on her Facebook page. It received two million views within two days and has now got over three million views. Reportedly, Ayala was unaware that he was being filmed.
Newman wrote that the lady used to hold a sign, which said "78-year-old widow needs money for food."
"As I'm sitting there thinking 'I got scammed by a little old lady,' a man approached her car ......and this is what happened next, Newman posted along with the video.
Watch the video below:
Meanwhile, the old lady told News Channel 4 that she was using the money to pay her bills and not for alcohol or drugs. She even mentioned that the video has ruined her family and her daughter hasn't spoken to her after the video went viral.