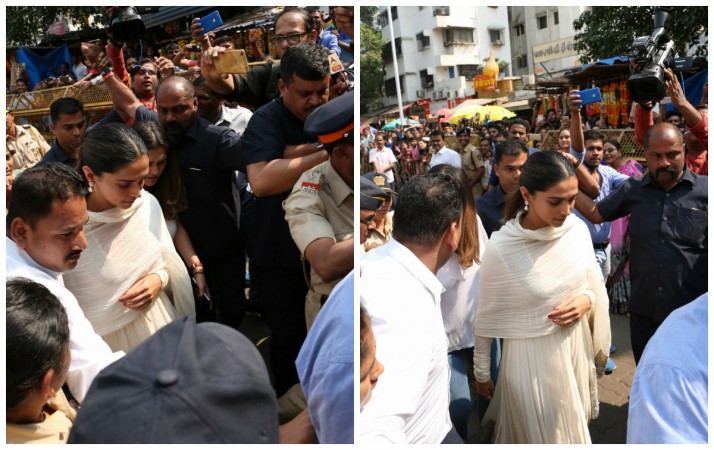 Amid the controversy surrounding Padmaavat, Deepika Padukone visited the Siddhivinayak Temple in Mumbai to seek blessings before the film's release.
Clad in a beautiful white Anarkali, the actress chose minimal makeup during the temple visit. As soon as Deepika arrived at the temple, people went crazy, trying to get a glimpse of the actress and clicking her pictures.
Also read: Sidharth Malhotra reacts after Neetu Chandra blasts him for insulting Bhojpuri language
The pictures show police and her bodyguards having a tough time in managing the crowd around her.
The movie Padmaavat has been in trouble for a long time, and it is understandable that Deepika would want to seek God's blessings when the film is finally about to get released in two days.
Rajput outfit Karni Sena has been having a strong stand against the release of Padmaavat, alleging that the film portrays the character of Rani Padmini in an inappropriate manner. The outfit accused director Sanjay Leela Bhansali of distorting historical facts and incorporating some objectionable scenes.
The protestors had not only demanded a ban on the release of the film, they had hurled death threats at Deepika and Bhansali as well. Although the censor board cleared the film with a few changes and the Supreme Court ordered the removal of ban on the movie, Karni Sena members are still opposing its release. The organisation has threatened that it will burn down theatres if the film is screened.
Meanwhile, many Bollywood celebrities have spoken in favour of Padmaavat, and slammed the protestors. Film-maker Karan Johar too expressed his support for the film and applauded the apex court's decision.
"As a film-maker, I can only hope that we have a smooth release. Supreme Court judgement went in favour of 'Padmaavat', it is a matter of happiness that the law has prevailed," ANI quoted Karan Johar as saying.
Padmaavat is set to be released on January 25.