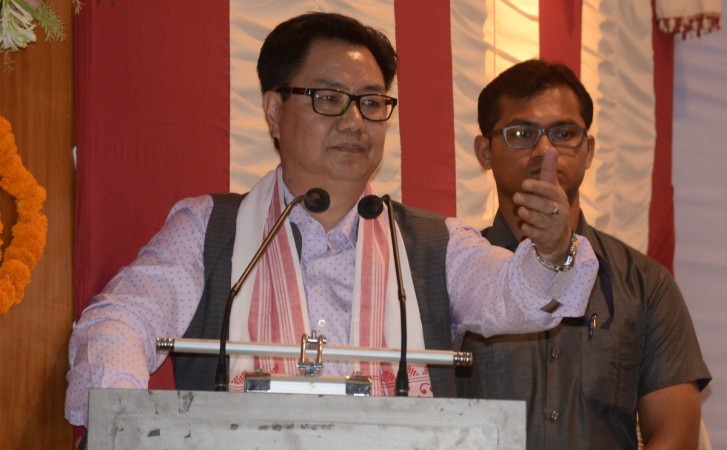 Even as the controversy over beef ban continues, the issue has now divided the main ruling party at the Centre – Bharatiya Janata Party (BJP). Minister of State for Home Affairs Kiren Rijiju has not only admitted that he eats beef, but even dared people opposing the practice to stop him.
Rijiju, who hails from Arunachal Pradesh in the northeast where beef is a common food, was speaking on the issue days after his Cabinet colleague Mukhtar Abbas Naqvi asked people who wanted to have beef to go to Pakistan or the Arab countries. He described Naqvi's remarks as "not palatable".
"I eat beef, I am from Arunachal Pradesh, can somebody stop me? So let us not be touchy about somebody's practices... This is a democratic country. Sometimes, some statements are made which are not palatable," Rijiju was quoted as saying by The Indian Express during a visit to Aizawl on Tuesday.
Rijiju said that laws on issues such as cow slaughter should be made according to the wishes of the people of a particular state.
"If Maharashtra is Hindu majority, or if Gujarat is Hindu majority, Madhya Pradesh is Hindu majority, if they are to make laws which are conducive to the Hindu faith, let them be. But in our place, in our state where we are majority, where we feel whatever steps we take, you know, laws which are conducive to our beliefs, it should be. So they also should not have a problem with the way we live, and we also should not have a problem with the way they live," Rijiju, who is Buddhist by faith, said.
Earlier, Finance Minister Arun Jaitley had also disapproved of Naqvi's remark, saying people should be aware of their responsibilities.
Former Supreme Court judge Justice Markandey Katju had called the minister an "idiot" over his statement. "I am a Hindu, and I have eaten beef, and will again eat it. There is nothing wrong in beef eating. 90% of the world eats beef. Are they all sinners ? And I refuse to believe that cow is sacred or our mother. How can an animal be a mother of a human being ? That is why I say 90% Indians are idiots, Mr. Mukhtar Abbas Naqvi included," he had posted on his Facebook page.
Speaking at a media conclave on 21 May, the minister of state for minority affairs had said, "It is not about loss or profit, but it is an issue of faith and belief. Those who are dying without eating beef can go to Pakistan or Arab countries or any other part of the world where it is available."
Naqvi's statement came while he was countering All India Majlis-e-Ittehadul Muslimeen's (AIMIM) president Asaduddin Owaisi at the conclave on the issue of ban on beef.