Halloween 2017 is here, and so is the customary trick or treat question. While we are unaware of the trickery people are up to, we can surely lend our eyes to some wonderful treat.
The occasion gives the perfect excuse to dress up as anyone we always wanted to be -- yes, from that favourite comic character to that spookiest beast we wanted to bare for long.
As numerous celebrities dress up to the occasion around the globe, sportspersons too are basking in the occasion of Halloween to look their gorgeous best. Very few people there can carry a badass look and still look smoking hot at the same time!
We've listed some of the best Halloween 2017 dress-ups by the female sports athletes.
Becky Lynch
WWE superstar, who is known for her great in-ring abilities as well as her gorgeous looks, turns all the attention as she dresses up like X-Men character Jean Grey. The Irish 'lass kicker' has kicked some real a$$ with her recent look, and we are oggling at it. Her dyed red hair has done all the trick!
Becky, 30, basically dressed up like this as a tribute to WWE legend Kane, who celebrated his 20 years in the pro wrestling promotion recently. Nevertheless, there is no reason why we cannot pick this out as the perfect costume for Halloween. Full marks to Becky!
Eugenie Bouchard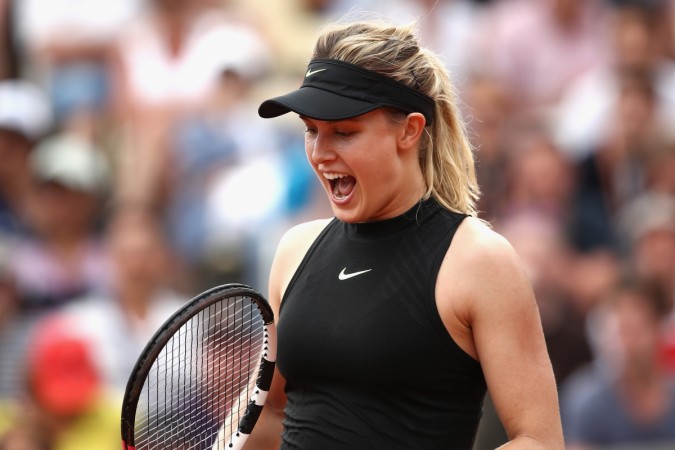 Ah! What has the stunning beauty not done this 2017. Genie, 23, grabbed headlines for the first time this year after accepting a blind date on Twitter following a lost bet during Super Bowl Ll. She then stole attention with her swimsuits and barely-there bikini cameos.
Although she had a forgettable tennis season this calendar year, that one-win against Maria Sharapova at the Madrid Open has remained the Canadian's most emphatic win in recent years.
On the occasion of Halloween 2017, well, Genie has again taken access to a swimsuit...this time a Baywatch-inspired one. Our bet, she has definitely tried portraying the character of CJ Parker. Does she come close to Pamela Anderson? Nay, not really. More like Kelly Rohrbach, for sure!
Gina Carano
One of the hottest female mixed martial arts (MMA) fighters, who played the role of Riley Hicks in Fast & Furious 6, and Angel Dust in Deadpool, has left our jaws drop after dolling up to look like Yolandi Visser, one of the rappers from South African hip-hop band Die Antwoord.
Gina, 35, one of the most notable former fighters in the Strikeforce MMA promotion, has tried every way possible in looking like Yolandi, and we can't but help giving her full marks for carrying the look so well. A glance at her hypnotic eyes and we are floored!