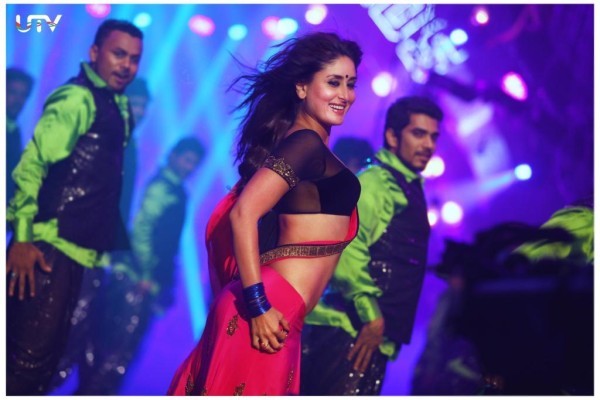 Madhur Bhandarkar's "Heroine" starring Kareena Kapoor is set to scorch the screens on Friday.
"Heroine" is yet another attempt by director Madhur Bhandarkar to shed more light on the darker side of being a heroine in today's film industry. He is well known for making hard-hitting women-centric films such as "Fashion" and "Page 3" and has four National Awards under his belt.
The film initially roped in Aishwarya Rai to play the leading role. Even the first look of the movie was released at the 64th Cannes Film Festival. However, Bhandarkar was of the opinion to put off his ambitious project following her pregnancy before he zeroed in on Kareena to essay the main role.
Rai was then pregnant with Aradhya. The filmmakers conceived that she was unfit for the bold, smoking and drinking scenes, which they couldn't expect a pregnant woman to do. After much fuss and debate over the issue, the film went on floor with Kareena.
In "Heroine", Bhandarkar dives into the dark side of the glamorous world, a theme similar to his other movies. The film revolves around a humble girl who aspires to make it big in Bollywood.
Going by the indication in the trailer the movie is another hard-hitting story which exposes the reality of stars off screen. The trailer also shows a glimpse of Kareena's intimate scenes with other leading actors - Randeep Hooda and Arjun Rampal.
Bhandarkar's last release, "Fashion" (2008), was critically acclaimed and a box office hit. The film also got Priyanka Chopra her first National Award and Film Fare award for best actress.
Earlier, Kareena said that "Heroine" is far bigger and better than "Fashion", giving a new lease of life to her rivalry with Priyanka. In what seemed to be tit for tat, Priyanka called Karrena "soar grapes" in an interview to a news channel, since the latter didn't have a National Award to her credit.
"Heroine" is touted as Bhandarkar's most ambitious project and Kareena's "most challenging" role so far. Needless to say, both the actor and director have proved their caliber in Bollywood industry over the years. But what remains to be seen is will Heroine end Kareena's track record of not having won a National Award?
Bhandarkar's magnum opus is also expected to make it big at the box office window, while scoring lots of appreciation from film critics. Exuding his confidence that "Heroine" will be a commercial hit, filmmaker Karan Johar said that the film "will have the cash registers ringing this weekend."
"Heroine" will be released Sept 21 on Kareena's Birthday, who will turn 32. Will it be her best birthday gift? It's largely dependent on the success of the film