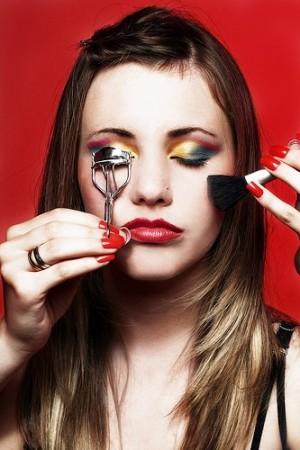 Most of the beauty products available in India contain toxic heavy metals that can cause deadly diseases including cancer, according to a new report.
The study conducted by Centre for Science and Environment (CSE), a non-profit organization in New Delhi, detected presence of mercury, chromium and nickel in fairness creams and lipsticks sold by popular brands across the country.
For analysing the safety of different beauty products sold in the Indian market, CSE collected samples of 73 cosmetic products, both Indian and International brands, which included 32 fairness creams, 30 lipsticks, eight lip balms and three anti-ageing creams.
Researchers were shocked to find mercury, a heavy metal, the use of which has been banned by the Indian government, in nearly 44 percent of the fairness creams (14) tested. Blossom Kochhar's Aroma Magic Fair Lotion contained highest levels of mercury (1.97 ppm) while Procter and Gamble's (P&G) Olay Natural White (1.79 ppm) and Hindustan Unilever's Ponds White Beauty (1.36 ppm) closely followed it.
Exposure to mercury has long been associated with adverse health outcomes. According to the World Health Organization (WHO), exposure to the chemical can cause severe damages to the nervous, digestive and immune systems, lungs and kidneys. It can even lead to death and cause neurological and behavioural disorders.
"Mercury is not supposed to be present in cosmetic products. Their mere presence in these products is completely illegal and unlawful," Sunita Narain, CSE's director, said in a statement. "Additionally, the fact that our lab did not find mercury in 56 per cent of the products tested suggests that the industry has the capacity and wherewithal to clean up their act. Many companies are following the law - what is stopping the others from doing so?"
If mercury was the problem with fairness creams, lipsticks were highly packed with chromium and nickel. 15 lipstick brands tested positive for chromium and 13 for nickel.
Hearts & Tarts colorbar and L'Oreal's LancomeLabsolu Nu-204 topped the list for containing the highest concentration of chromium and nickel respectively. Lip balms and anti-ageing creams were found to be fully free from toxic chemicals.
Like mercury, both chromium and nickel have been associated with many health problems. According to health experts at the Agency for Toxic Substances & Disease Registry in the US, exposure to chromium and nickel can cause asthma, lung, nasal or sinus cancer, skin problems, cardiovascular events, reproductive and developments problems.
While responding to the report, Blossom Kochhar, informed its customer's that their products were completely free from any toxic chemicals and the product in the CSE report was recalled two years back.
"We had, on our own initiative, placed our products for extensive testing for presence of heavy metals in July 2013. We are pleased to confirm that all our tests have shown that the levels of mercury and other heavy metals are well within the permissible limits," a statement on the Facebook Page of the company, read. "Further the Fairness Cream mentioned in the CSE report is has been discontinued since 2011."
Concerned with their findings, researchers recommended the introduction of stronger laws to avoid any health risks posed by these products to the common public.
Watch Chandra Bhushan, CSE deputy director general, talking about the issue below: