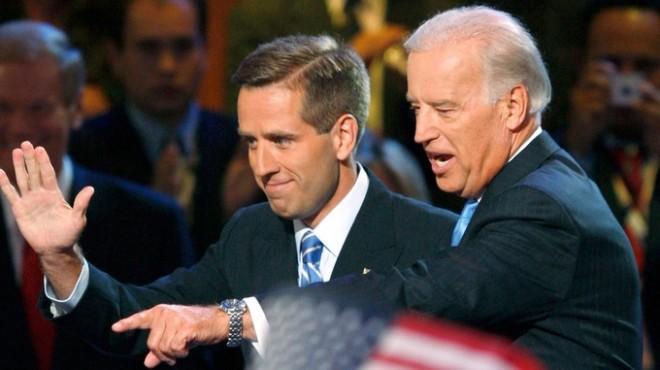 Beau Biden, the 46-year-old son of US Vice President Joe Biden, died on Saturday of brain cancer.
The Washington Post had reported that Beau had undergone a series of surgeries at Walter Reed National Military Medical Centre in Washington as he fought cancer, a battle that his father largely kept private in the last weeks as his son clung to his life.
Announcing his son's passing away, the US Vice President said: "Beau embodied my father's saying that a parent knows success when his child turns out better than he did."
Meanwhile, President Barack Obama in a statement said he and his wife, first lady Michelle Obama, were grieving. He paid warm tribute to Beau, saying he took after his father.
"He studied the law, like his dad, even choosing the same law school. He chased a life of public service, like his dad, serving in Iraq and as Delaware's Attorney General," Obama said in a statement.
"Like his dad, Beau was a good, big-hearted, devoutly Catholic and deeply faithful man, who made a difference in the lives of all he touched, and he lives on in their hearts."
Things to know about Beau Biden
Joseph Robinette "Beau" Biden III was born on 3 February 1969 in Wilmington, Delaware, and he was the elder son of Vice President Joe Biden, and his first wife, Neilia Hunter.
Beau and his brother Hunter lost their mother and younger sister, Naomi Christina Biden in a car accident in 1972. Beau, who was always close to his father, was the one who encouraged Joe Biden to remarry.
Beau joined the US army in 2003 as a member of the Delaware Army National Guard. He later served as a Major in the Judge Advocate General (JAG) Corps, part of 261st Signal Brigade in Smyrna, Delaware. He was deployed in Iraq in 2008 and served for a year.
In 2006, Beau made his first major political advance when he ran for the office of Attorney General of Delaware. He was pitted against a veteran state prosecutor and Assistant US Attorney, Ferris Wharton. He won the seat by 5%. In November 2010, he was again re-elected for a second term.
Beau became a political start in 2008 after delivering a stirring introduction of his father at the Democratic National Convention in Denver the night Joe Biden accepted the nomination as vice president, in which he recounted the time when he lost his mother and his younger sister. His speech brought many including his father to tears.
Beau is survived by his wife, Hallie, and two children, Natalie and Hunter. Beau married Hallie Olivere in 2014 at an intimate wedding on Nantucket Island in Massachusetts, the place where he proposed to her a year earlier, and where his family has celebrated Thanksgiving for the past 26 years.