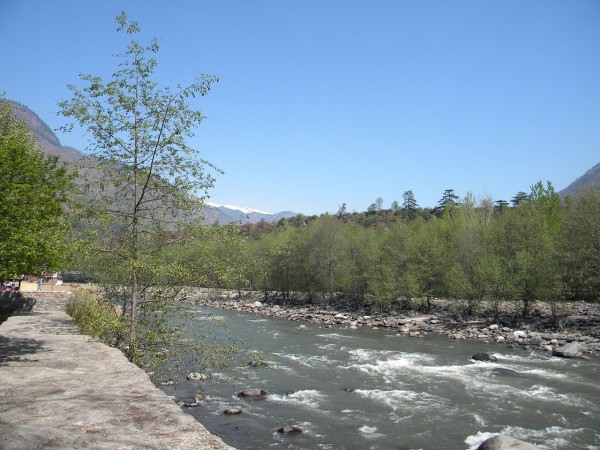 The bodies of the five students, who were swept away in the Beas River, Mandi district of Himachal Pradesh, reached Hyderabad on Monday evening. About 22 students who fortunately escaped the tragedy were flown back in a special Air Costa flight and they reached the Shamshabad International Airport in Hyderabad on Monday night.
Nineteen students and one tour guide, who were washed away in the waters, are still missing. Search operations continued on Tuesday morning to locate the missing persons.
The students from VNR Vignan Jyothi Engineering College, Hyderabad, were reportedly on a 10-day trip to Himachal Pradesh. They were travelling in two tourist buses from Shimla to Manali on Sunday evening.
On their way, the students stopped at the banks of Beas River to take photographs. While some of them were standing on the Beas River's edge, they were hit by a gush of water released from Larji Hydro Power Project's reservoir at around 7 p.m. As many as 24 students were swept away by a torrent of water, while the other students managed to escape.
Students alleged that help came hours after the tragedy happened and they have also said that the authorities had failed to issue a warning about the release of water from the dam. However, the additional district magistrate has claimed that the siren went off before the water was released.
As per rules, dam authorities must inform the state and the local administration as to when the water will be released so that the locals living downstream can be alerted about the rise in water levels. However, Mandi deputy commissioner Devesh Kumar has claimed that he did not receive any information about the water release. "I did not receive any phone call from the authorities and I have no idea if they sent a written communique," Kumar told the Times of India.
Himachal Pradesh chief minister Virbhadra Singh has ordered a probe into the incident. Three Larji Hydroelectric project officials including resident engineer Mandeep Singh, executive engineer MS Dadwalia and operator Harwansh Lal have been suspended for negligence. Cops have also registered an FIR in connection with the incident.
Andhra Pradesh chief minister Chandrababu Naidu hit out at the Himachal Pradesh government for not taking proper precautions. "I condemn the delay by the officials or the government. Also it is not enough to sound a warning. Enough precautions were not taken. This is not the correct approach," CNN IBN quoted Naidu.
The Himachal Pradesh high court has taken suo motu cognizance of the tragedy and has asked the state government to file a report on the incident in six days.