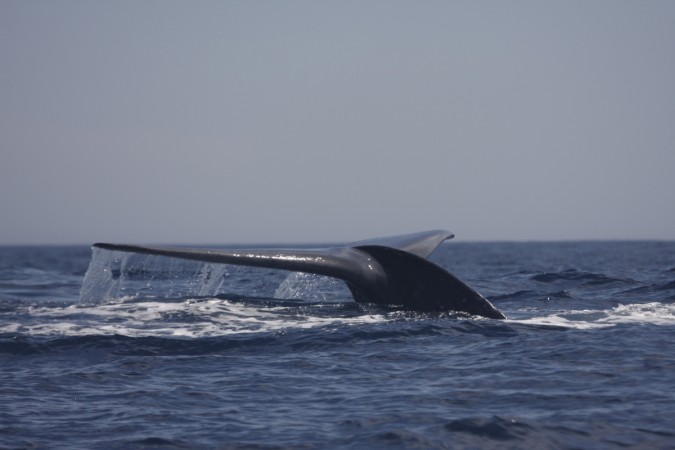 Just months after a majestic blue whale was spotted off the coast of Maharashtra for the first time in over a century, a 40-foot-long member of the world's largest species died on a shore not far from Mumbai on Thursday after being beached and stranded for nearly a day.
The female blue whale was washed ashore on Revdanda coast near Alibaug on Wednesday, and despite efforts by locals to push the large animal, which weighed 20 tonne, back to the sea, the whale died. It was later buried at the beach.
However, some locals took the tragic incident as an opportunity to pose for photos with the whale's carcass.
A photo published by The Indian Express shows some locals even climbing on to the whale's carcass and smiling for cameras. Some reports said that many locals rushed to the site just to click selfies.
The apathy was criticised on social media as many on Twitter expressed anger at the inability of the authorities to save the endangered mammal.
This pic seems rather unfeeling..as locals pose for pictures on top of the poor dead blue whale #alibaug #Maharashtra pic.twitter.com/gbGgV50x6Y

— Gargi Rawat (@GargiRawat) June 26, 2015
How idiots at Alibaug beach near Mumbai treated a beached Blue Whale that cdn't be saved. (Photo via @Anjali_Lukose). pic.twitter.com/Ty27MxzVxi — Shiv Aroor (@ShivAroor) June 25, 2015
This is said to be the first case of 'live stranding' on the coast of Maharashtra, where dead dolphins and other sealife have often washed ashore.
However, a lack of preparedness by forest authorities resulted in the whale dying after hours of struggle, and the forest department reportedly admitted to "not being prepared for an eventuality like this".