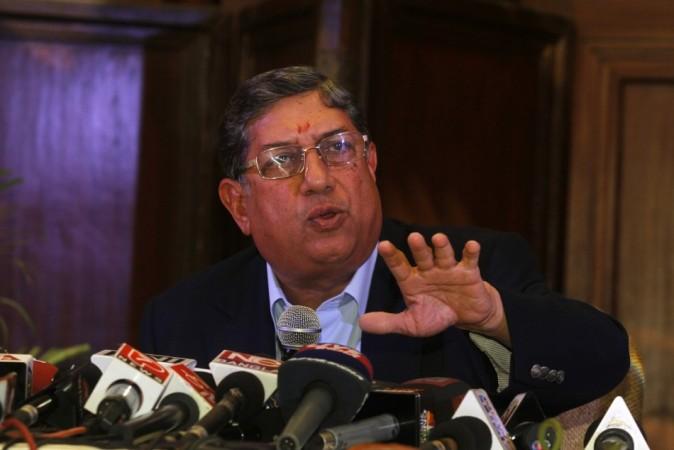 N. Srinivasan was elected the BCCI president for a further one-year term after standing unopposed in the Annual General Meeting in Chennai, while Ranjib Biswal was named the IPL chairman.
Srinivasan, despite all the controversies that has plagued his two-year term, was determined to push for a further year and has now got his wish.
The India Cements supremo, though, cannot take official charge just yet with a Supreme Court order preventing him from doing so.
Srinivasan can delve into his duties only once the Supreme Court gives its verdict on the case filed by Cricket Association of Bihar secretary Aditya Verma, which has opposed his right to stand in the elections.
Srinivasan's election was far from a surprise as he was the only person to file nomination papers, although his position has come under fire from within, the public and the media following his son-in-law being chargesheeted in the IPL spot-fixing scandal.
Biswal, the Orissa Cricket Association chief and the manager of India's 2011 World Cup-winning side, beat out competition from Gundappa Vishwanath and Jagmohan Dalmiya for the IPL chairman's post and replaces Rajeev Shukla, who had resigned in the wake of the spot-fixing issue.
Shukla takes over from Arun Jaitley as the head of the tour, programme and fixture committee.
The new IPL chairman Biswal has also held the post of National Cricket Academy chairman, with T.C. Mathew now being named for that particular post. Biswal has played first-class cricket for Orissa, and was an all-rounder by trade.
BCCI office bearers: President: N Srinivasan. Secretary: Sanjay Patel. Joint Secretary: Anurag Thakur. Treasurer: Anirudh Chaudhary. Vice-presidents: Ravi Savant (West), Rajiv Shukla (Central), SK Bansal (North), Shivlal Yadav (South), Chitrak Mitra (East).