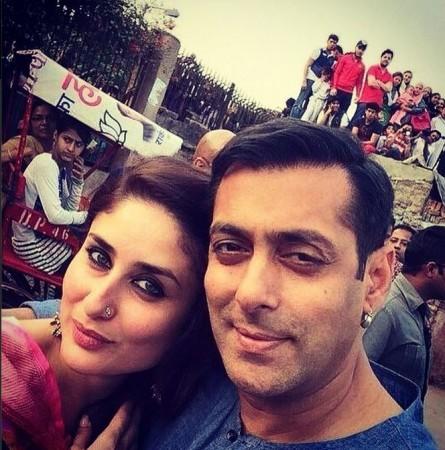 Salman Khan's "Bajrangi Bhaijaan" trailer release has been the talk of town since long. Fans were left disappointed after the makers went back on their promise of attaching it to "Tanu Weds Manu Returns".
However, now that the trailer is set to release on 27 May, news is that the superstar and leading lady Kareena Kapoor Khan will give it a miss.
"#BajrangiBhaijaan teaser will be launched at an event in #Mumbai around noon tomo May 27.@BeingSalmanKhan n Kareena will NOT b present," tweeted Faridoon Shahryar of Bollywood Hungama.
Meanwhile, the actor's followers on Twitter are now happy on learning the trailer release news. Here are some tweets from them:
Mumma's Boy: Can't wait to see "The Rocking" entry of Bhaijaan in Bajrangi Bhaijaan.. xx #BBFirstLookTomorrow
TheEvilPrince: Ek Tha Tiger's teaser is the BEST of Bollywood till date & #BajrangiBhaijaan's teaser will SURELY surpass the former 1. #BBFirstLookTomorrow
We Love U SK..:)): Make Way fr Box Offc King. Bajrangi Bhaijaan to be launched at Sunny Super Sound, Juhu tomorrow at 11:15am !! Jai mata di!! He is Back (sic)
ShAhId KhAn: @BBThisEid Class + Mass + Romance + Action + Political + Entertainment+ Eid = #BajrangiBhaiJaan #BBFirstLookTomorrow.
SalmanKhanHolics.com: LESS than 24 hours left till your glimpse of @BeingSalmanKhan in/as #BajrangiBhaijaan in this year's EID DHAMAKA !! #BBFirstLookTomorrow
1dayforBBtrailer: 27th may is d best day ever. Guys it's tomorrow can'tttt wait #BajrangiBhaijaan #BajrangiBhaijaanTrailer (sic)
Bajrangi HULK: Salman, Beautiful Location, Some Kickass Action & Faadu BG Score..That's Wat I Want in Bajrangi Bhaijaan Teaser..(sic)