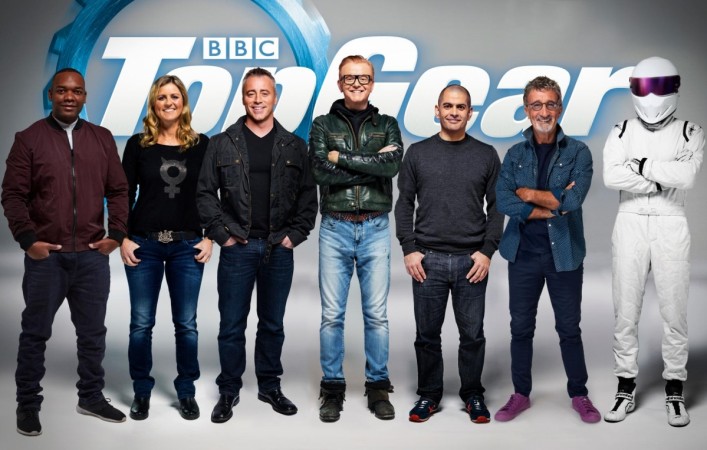 After it was confirmed last week that former "Friends" star Matt LeBlanc has joined Chris Evans as one of the hosts of BBC's revived "Top Gear" TV series, the channel has also announced the rest of the line-up, which consists of a total of seven regular presenters.
According to Irish Times, Besides Evans and LeBlanc, Sabine Schmitz has also joined the crew. Scmitz is a racing driver and a German TV presenter. A few years ago, she caught the viewers' attention when participating in "Top Gear" as a contestant and racing a Ford Transit van on the dangerous Nurburgring race track.
Eddie Jordan — a Formula One expert and team owner — has also joined the cast. His presence might mean BBC will keep Formula One coverage. Talking about how he feels on joining the revived "Top Gear," Jordan said: "I have such enormous respect for all my fellow presenters and I politely ask that they go easy on these old bones."
Chris Harris will represent the professional car reviewing team. Harris is a former road-test editor of Autocar magazine and is also a celebrated YouTuber. Harris said he is quite excited to join the crew and hopes it will be one memorable journey.
"'Top Gear' is the thing that helped shape my life with cars, my perception of cars and my obsession with cars, and I'm raring to give it a go," Harris said.
Rory Reid is the sixth member. Rory will be the show's technology correspondent and caught Chris Evan's attention when she sent him a 30-second audition tape.
"When I submitted my 30-second audition tape, I knew the odds were very firmly against me. To be the only person to make it through the open audition process makes me immensely proud. I've been a 'Top Gear' fan for decades, but more than that, I live and breathe cars in a way that is perfectly compatible with the show," Rory said.
The seventh member will be notorious racing driver The Stig, who was previously played by driver Perry McCarthy and stunt driver Ben Collins. The current identity of The Stig is not yet revealed, but fans are speculating he is British Touring Car Championship star Gordon Shedden.