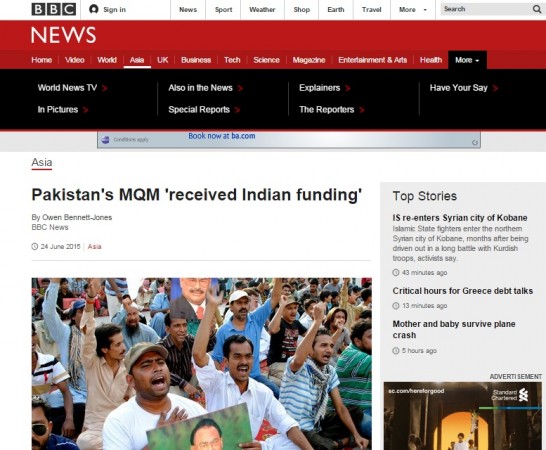 A report by the British Broadcasting Corporation (BBC) on the alleged Indian funding of the Muttahida Quami Movement (MQM) in Pakistan has raised a major controversy, as both India and MQM denied the claims.
On Wednesday, BBC published a report headlined 'Pakistan's MQM 'received Indian funding''. The report said members of the MQM party told UK authorities that India had funded them, while a Pakistani official told the channel that India had also trained hundreds of MQM militants over the last decade.
However, India has called the BBC report 'baseless', while MQM leadership has also denied the allegations.
"The BBC Report on India training MQM members is completely baseless. Shortcomings of governance cannot be rationalized by blaming neighbours," Ministry of External Affairs spokesperson Vikas Swarup tweeted.
"The allegations are utterly baseless, and have been planted by the Pakistan army to defame us," Muhammad Anwar, a top leader of the MQM's London branch, told The Indian Express.
The BBC report, which was aired on TV, has raised political tensions in Karachi, MQM's base, reportedly prompting BBC to shut down its office in the city, the Indian Express said.
The Express Tribune also said that the BBC Karachi office was shut down, citing 'unofficial reports'.
However, a Karachi-based journalist told IBTimes India that the BBC office was running as per usual.
"It's (BBC office) is working as per routine. MQM is no longer powerful enough to do anything," Wajahat Kazmi, news producer at Samaa TV, said.
Adding to the political tension in the city is Pakistan Tehreek-e-insaf (PTI) chairman Imran Khan's presence there on Thursday.
The PTI party tweeted through its official account that Imran Khan is likely to comment on the BBC report in Karachi.
Will comment on the BBC report in the press conference to be held later today. Chairman PTI @ImranKhanPTI 's media talk at Karachi Airport.

— PTI (@PTIofficial) June 25, 2015
Several Pakistani journalists and writers tweeted that BBC had closed its Karachi office, as tensions have risen after the programme was aired in Pakistan.
BBC Office in #Karachi is closed for pre-emptive measures due to a report/documentary which is coming out.

— Ali Kamran Chishti (@akchishti) June 24, 2015
BBC shut its Karachi office in anticipation would it close its India office too?

— Ayesha Siddiqa (@iamthedrifter) June 24, 2015