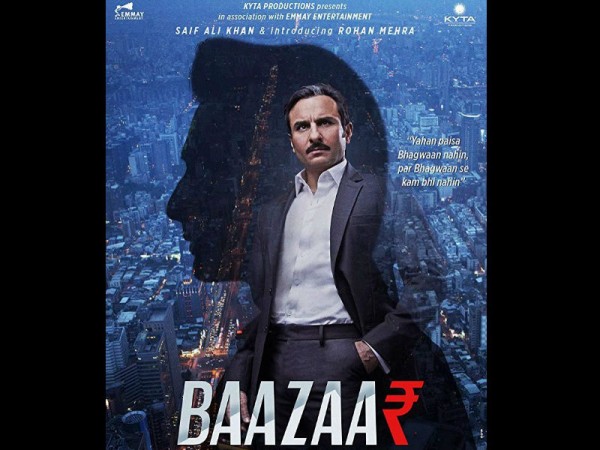 Saif Ali Khan's latest movie Bazaar (Baazaar) has got mixed reviews from the critics. While Saif's performance is being appreciated, some liked the overall film, some others found it too predictable.
The movie Bazaar features Saif, Rohan Mehra, Radhika Apte, Chitrangda Singh and Denzil Smith, among others. Directed by Gauravv K Chawla, the movie is based on the world of stock market, showcasing power abuse, greed for money, trust, betrayal and a lot more.
Bazaar is being praised for a certain things, but it looks like it is Saif who steals the most limelight. The actor plays the character of a highly ambitious and suave Gujarati businessman. Saif's performance in the film impressed the critics most. Other stars like Rohan and Radhika are too being applauded.
Bazaar is being said to be an engaging thriller, but many others declared it to be a good subject line runied. Although the film involves a lot of stock market jargons and complex practices of the market, the director showed and explained those in a comprehensive manner.
The first half is said to be a little slow, but the second half picks up the pace. However, the critics found the climax to be dragged, and the film included songs that disrupt the narration.
Here are Bazaar reviews and rating:
Times of India: Baazaar uses plenty of stock market jargon and showcases complex ideas like insider trading and financial manipulation with ease. It's great to see an edgy story unfold in completely new settings in a Hindi film. The movie has a lot of hustle and power play from the world of industrialists, politicians and money brokers, and that makes for a smart investment, especially for movie buffs. (3.5/5)
Khaleej Times: The movie caters to the mass audience and introduces us to ideas like insider trading, media manipulations, political rigging with great ease, even for the uninitiated. Baazaar is sharp, edgy and engulfs you into the big bad world of stock exchange trading. It will leave you thoroughly entertained. (3/5)
Gulf News: The first half of the film moves at a decent pace, but the second half is riddled with a few fractured turns. Why did Kothari take the wide-eyed Ahmad under his wing and into his inner circle so swiftly? Why didn't Ahmad see red when a shark-like Kothari was being uncharacteristically nice towards him? These are a few questions that will come up. While the thriller set against the concrete jungle of Mumbai isn't particularly memorable, its lead player Kothari has a longer shelf-life. Watch this solely for Khan. (2.5/5)
Mumbai Mirror: Director Gauravv K Chawla is tuned in to the vital masalas that makes for a Hindi blockbuster and uses the tropes to heighten the drama. While the tension he manages to conjure isn't consistent, it often leave one in anticipation for the next scene. So if you've not watched the Hollywood version, this may interest and occasionally, even manage to entertain you. (3/5)
NDTV: Baazaar is at best passable. It could have yielded higher dividends had it been less slavishly derivative. (2/5)
Hindustan Times: The market manipulation and stock skulduggery in Baazaar is childish, but that doesn't stop Chawla borrowing from masterworks like The Big Short. There is a reason the guy breaking the fourth wall in that film was the incomparably dashing Ryan Gosling. With Mehra, the flatness hurts. Chhokra dull chhe. There are many problems with the mediocre Baazaar, but the primary issue is intent, because it appears Chawla didn't truly attempt to tell a story. He's a director who tried Wolf. (1.5/5)
News18: But what hampers the narrative's flow is the director's love for melodrama, oddly-timed twists and glossy songs. Without them, Baazaar could have been a much sleeker and a lot more gripping story of insatiable greed. To give credit where it's due, Baazaar is still a 'masala' entertainer, provided you don't ask for more than what's offered. (2.5/5)
DNA: On the flip side, the film hits an emotional plateau. It fails to make you feel deeply for its characters. You wish you had a tear for at least one of them. Had that happened, Baazaar would be considered a much better investment. If powerplay and money matters interest you, watch Baazaar. (3/5)