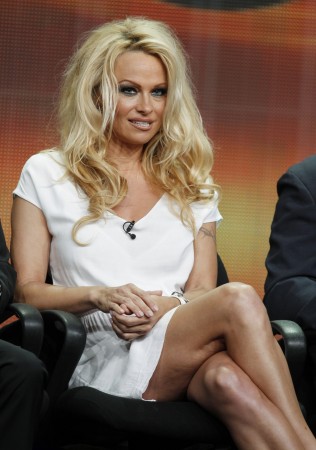 On Sunday, Baywatch's Pamela Anderson made a revelation to Britain's Press Association. She stated that she was concerned about Wikileaks founder Julian Assange's health and had in fact brought him a vegan meal and snacks.
So how did this unlikely pair become friends? Pamela Anderson and Julian Assange first met in 2014 when she went to seek his advice on her animal charity, Pamela Anderson Foundation. She was introduced to him by British designer Vivienne Westwood. Anderson had just launched the charity at Cannes that year. For the first meeting, Westwood and Anderson were supposed to meet him together but due to a mix up in dates, the "Baywatch babe" ended up meeting him on her own.
As everyone knows, Assange has been housed in the Ecuadorean Embassy in London for the last four years. He is wanted by Sweden who is looking to extradite him on a rape allegation.
Anderson recounted her meeting with Assange adding that he was not amused by the vegan meal she had brought him from Prêt-a-Manger. The Baywatch hottie told media said that Assange stated that she had "tortured" him with the vegan meal.
The Telegraph in UK reported Pamela Anderson as saying Assange was doing really well. She also revealed that he looked pale as he had not gotten any sun over the last four years. "I really believe in him and think he's a good person, and I'm concerned about his health, his family, and I just hope that by some miracle he's set free," the daily quoted her as saying.
Pamela Anderson was headed to a lecture on pornography at the Oxford Union on Saturday. She met Assange before the lecture and gave him the vegan lunch that he obviously was not too happy with.
Assange and Anderson don't seem to have much in common, but they have become friends from the look of it. Wonder what they chat about!