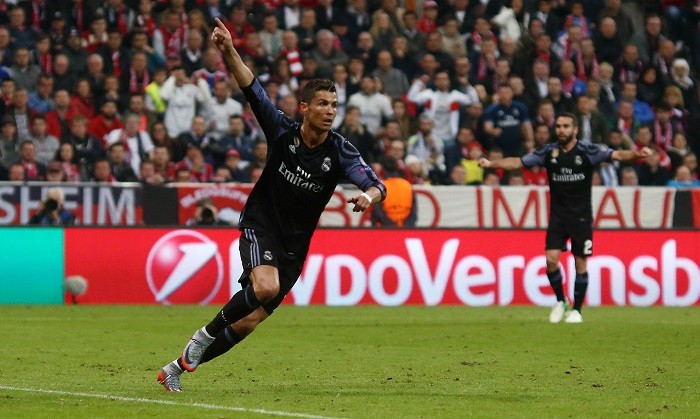 Cristiano Ronaldo has not quite been his usual ridiculous goalscoring self this season, with questions, slowly but surely, being asked over the Real Madrid superstar's powers waning as age finally catches up. However, when it comes to deciding a crucial encounter, there are very few more reliable than Ronaldo and the Portuguese showed there are still plenty of years left in him with another impressive performance on the grand stage.
With Bayern Munich hosting the first leg of this blockbuster UEFA Champions League quarterfinal over Real Madrid, the Spanish side would have known the importance of scoring an away goal.
Well, thanks to Ronaldo they got two of them and a 2-1 win.
Ronaldo scored twice in the second half to help Real Madrid come from a goal down and grab the advantage going into the second leg at the Bernabeu.
Bayern Munich would have been feeling good after their first half performance, where Arturo Vidal opened the scoring with a thumping header off a corner, with the midfielder also missing a penalty after Dani Carvajal was rather harshly judged to have handled the ball.
Ronaldo would answer back just two minutes into the second half, with the 32-year-old volleying home a low cross from Carvajal, before Bayern's night got worse when Javi Martinez was sent off for two bookable offences.
Real Madrid then moved into the lead courtesy their superstar, who stabbed the ball home from a Marco Asensio cross on 77 minutes.
That goal, his 97th in the Champions League, meant Ronaldo now has 100 club goals in all UEFA competitions, a record. Lionel Messi is close behind on 97.
"He was happy (to have scored two goals), but no so much so because he could have scored the third," Real Madrid manager Zinedine Zidane said of Ronaldo. "That is his ambition.
"We are all happy because getting a result here is not easy. Now we must relax because the game in La Liga is just around the corner. In the return leg we will have to dig and we know that."
Carlo Ancelotti, the former Real Madrid manager, who led the Spanish club to the Champions League title a few years ago, now needs to find to a way to pick up a win at the Bernabeu with his Bayern team.
Easier said than done.
"The small details were decisive," Ancelotti said. "We missed the penalty, we conceded the equaliser early in the second half. The sending-off changed the match completely.
"We controlled it in the first half, but didn't make the most of our chances. Going a man down didn't make it easier to say the least, but we still did quite a good job. We now have six days until the second leg. We still have 90 minutes, and we'll give it everything. We're still alive."
Watch the highlights of the match HERE