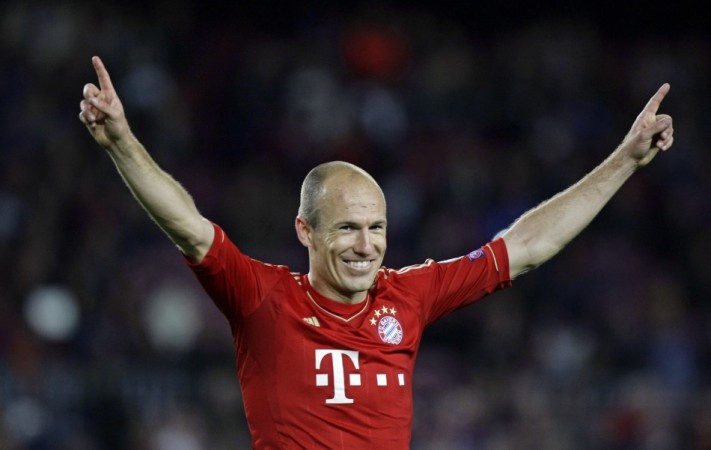 Dutch football star Arjen Robben could leave the German giants Bayern Munich if latest reports are to be believed. News has it that he would make way for Liverpool star Luis Suarez.
It is reported that Bayern Munich, who are high after a treble-win this season - Bundesliga, Champions League and DFB-Pokal - are keen to rope in Liverpool's Luis Suarez, and they are willing to offer Robben as part of the exchange deal.
Suarez, who had expressed his willingless to join Real Madrid, is said to have links with Bayern Munich in new coach Pep Guardiola's brother Pere, who happens to be the agent of the Uruguay striker.
Meanwhile, Robben played a vital role in the success of Bayern Munich this season. He set up the goal of Mario Mandzukic in the Champions League final against Borussia Dortmund before scoring the winner in the 89th minute.
It is also reported that Mario Gomez could leave Bayern Munich. Mario Mandzukic took his place in the last season, sparking speculations that the German star would leave Allianz Arena. The reports of Pep Guardiola's bid to rope in Borussia Dortmund star Robert Lewandowski has also sent out the message that his place in the team is at stake.
Gomez's agent Uli Ferber has denied the reports of his client's possible move to Napoli. However, he said that the Germany international will have a clear picture of his future in a few days' time.