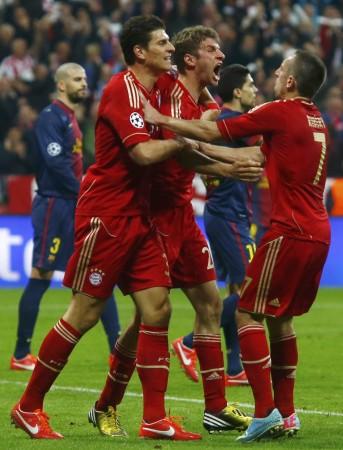 Bayern Munich are on the verge of entering the Champions League final for the third time in four years after thrashing the favourites Barcelona by four goals in the first leg of the semi-final at the Allianz Arena on Tuesday night.
Two goals from Thomas Muller, and one each from Mario Gomez and Arjen Robben ensured Bayern Munich, which recently made history by winning the Bundlesiga crown in record time, a big win against the Catalans.
Barcelona played their usual ball possession game from the very start but they were outplayed by Jupp Heynckes' side, which were swifter and controlled the game. Lionel Messi, who sustained a hamstring injury in a match against Paris St. Germain, looked unfit.
Thomas Muller gave Bayern Munich the opening goal in the 25th minute when Dante's header from Arjen Robben's cross came straight to him.
Barcelona came close to levelling the score a few minutes later when Dani Alves passed the ball to Messi, but Dante edged the ball with a crucial touch.
Bayern Munich increased the lead to two goals in the 49th minute after Mario Gomez sent Muller's header from Arjen Robben's corner into Victor Valdes' net. Ribery missed a good chance a few minutes later but Robben scored the team's third goal in the 73rd minute.
Marc Bartra got a good chance to score a consolation goal for Barca but he sent the ball straight at Bayern Munich's goalkeeper Manuel Neuer.
Muller then scored his second goal of the match in the 82nd minute, sending the ball into the net from a close range.
Barcelona did made some dangerous moves but it was the newly crowned Bundesliga champions who controlled the game throughout.
The teams will meet again for the semi-final second leg at the Nou Camp next Wednesday but it will be herculean task for the Catalans to level the score.