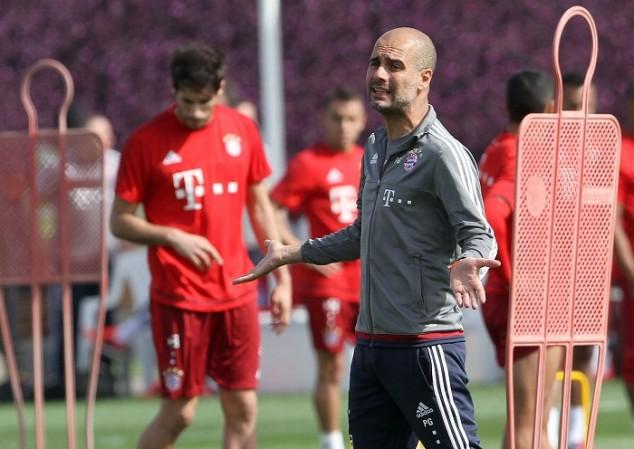 Bayern Munich president Uli Hoeness says he could have prevented the relationship between Pep Guardiola and club doctor Hans-Wilhelm Muller-Wohlfahrt from deteriorating had he not been serving time in jail for tax evasion.
Muller-Wohlfahrt quit his role at the Allianz Arena in April 2015 amid disagreements over the treatment of injured players with Guardiola, who was Bayern's head coach at the time.
The 75-year-old, who returned to serve in the Bavarian club's medical department in November last year, alleged in his new autobiography that Guardiola was a man with "weak self-confidence" and that he was always "reproachful and indignant".
The relationship between the pair broke down after Bayern lost a Champions League game against Porto in 2015, with Muller-Wohlfahrt claiming that Guardiola had blamed the club's medical department for the defeat.
"Pep Guardiola is a very proud Catalan, and the Spanish football coaches have a very different relationship with the medical department of the clubs," Hoeness was quoted as saying by Goal.
"And Mull, on the other hand, is a very proud doctor who does not want to discuss his successful treatments. In the spring of 2015 two fronts immediately met.
"It lacked the buffer that I always was. There used to be similar scenes to the 3-1 defeat in Porto after lost games, more often than one would think."
Muller-Wohlfahrt launched an extraordinary attack on Guardiola in his autobiography, which is being serialized by Bild.
"I think Pep Guardiola is a person with a weak self-confidence who does everything to hide that from other people," he said.
"Because of that he seems to live in a constant fear. Not so much of defeats but of the loss of power and authority. He knew everything better: Five minutes warm-up had to be enough. But that couldn't end up well.
"Apparently he saw me as a receiver of commands whom he could order every time he wants."
Guardiola won three Bundesliga titles during his three-year spell at Bayern, but success in the Champions League eluded him.