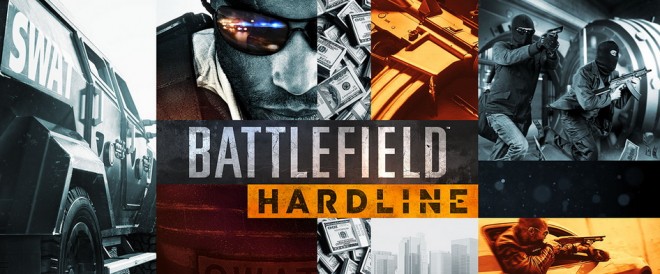 Battlefield Hardline is the newest game from Electronic Arts and it has launched the official website for this new video game which is likely to be a Cop vs. Thieves game.
The page informs us that fans have to be patient until 9 June when the company will reveal the game at 12:00 pm PDT during its E3 2014, annual gaming event at Los Angeles.
Earlier, information on the upcoming game was pulled up be enthusiasts from Battlelog source code. Also this leak revealed the logo for the game and so were its references to PC, Xbox 360, Xbox One, PlayStation 3 and PlayStation 4 consoles. The pulled up information was compiled by NeoGAF users and reveals information on equipment, ranks, ribbons, vehicles, weapons and more about the game.
Battlefield Hardline will reportedly include four classes - Enforcer, Mastermind, Technician, and Professional. It is most likely to be a police-themed shooter with a code name Havana. It was also suggested via an unofficial Battlefield Daily Twitter account that the game is being developed by a Dead Space creator, due to the presence of a Visceral image.
It is most likely that the game will have two factions - SWAT (cops) and Thieves as known from the badges in the NeoGAF thread. These images also reveal grappling hooks, gas grenades, gas masks and many other weapons. Vehicles list may include sports cars, bikes, vans, helicopters and trucks.
The game could include possible game modes like TDM, Turf War (Small and Large), Heist and Blood Money.
Fans and readers must be warned that the information is not final as no official information has been made public.
EA has plans of bringing nearly six games to the E3 2014 and Battlefield Hardline may be one of the video games. One of the six games is a major game that will be using EA's proprietary engine, Frostbite 3, reported GameSpot. EA has maintained that Battlefield franchise is crucial for company.
EA had released Battlefield 4 on 29 October 2013 for PC and both current and next-generation consoles.
Meanwhile, developer of Battlefield 4, DICE has announced that players will not be able to buy Battlepacks with real money. Battlepacks will include a mixture of in-game items (combinations of knives, dog tags, camouflage, weapon/vehicle paints or even experience boosts). It has detailed three such packs that will be available via Origin, Battlelog, Xbox Live and PlayStation Store:
Bronze Battlepack - $1
Silver Battlepack - $2
Gold Battlepack - $3
Batttlepacks can also be obtained by standard gameplay progressing but DICE has given players an option to cut short the progression system in order to catch up with their friends. Apart from this, players also have the option of shelling out $50 for a 'buy-everything' pack that will be inclusive of all class and weapon upgrades.