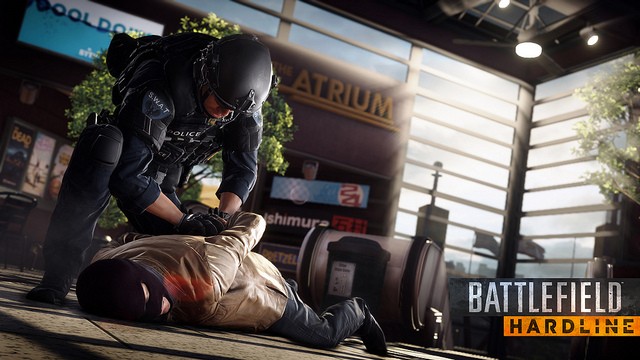 Electronic Arts (EA) has revealed details about its upcoming FPS video game, Battlefield: Hardline which is being developed by Visceral Games. The game will have cops vs. thieves theme.
This is the newest title from EA after Battlefield 4 and it moves away from the military setup bringing in cops vs. thieves. The game is set in Los Angeles and Miami. Players can choose to be cops or thieves. Hardline features an expansive single-player campaign and also its famed multiplayer campaign. The game has been inspired by the some of the popular crime dramas that are seen on TV.
The bases will have to make use of the built-in distractions in maps like raising the bollards in the entrance. Players will be able to free fall from the buildings.
EA has opened up the closed beta version of the game for its fans from 9 June for PC and PlayStation 4. These will be available on a first-come, first-serve basis. Join the closed beta here.
The Battle:
Players get to blow up bank vaults, destroy car dealerships, shoot outs at underground grow labs. If playing as cops, players will get to bust hideouts or criminal activities but if playing as thieves then they will get to make a getaway.
Weapons and Gadgets:
The game will be introducing weapons like sawed-off shotguns, ziplines and grappling hooks for thieves. Cops have tasers, tear gas and riot shields. Players will also get to use baseball bats, RPGs, handheld firearms and assault rifles.
Vehicles:
Players can use various cars, bikes, transport trucks and armored 4x4 trucks. Players will also get to shoot from helicopters when pursuing a vehicle.
Multiplayer:
Players can either make a perfect heist (as thieves) or can make big busts (as cops) in the game. If playing as cops, players will require backups and if playing as thieves then they need a crew and for both these factions teamwork is very important if your mission has to be successful.
Heist Mode:
The Heist is a multiplayer mode that can support 32 players. Cops battle against thieves and have to get loot money back to their base or they have to steal it from the safe house of the rival. Every player will be able to carry a maximum of $1 million in each run. But it must be stacked up as $100,000 bills in the bag and have to wait for some time to be deposited, reported Trusted Review. In the case of death of the enemy, the rival can pick up the stash that was dropped and take it back to their base.
Release Date:
Battlefield: Hardline will be released on 21 October 2014 for PC, PlayStation 3, PlayStation 4, Xbox 360 and Xbox One.
Pre-Order:
The game is already available for pre-order. It comes with a normal version and a Digital Deluxe version that has exclusive bonuses. Pre-order it here.
(YouTube Courtesy: Battlefield)
(YouTube Courtesy: Battlefield)
(YouTube Courtesy: Battlefield)
(YouTube Courtesy: Battlefield)