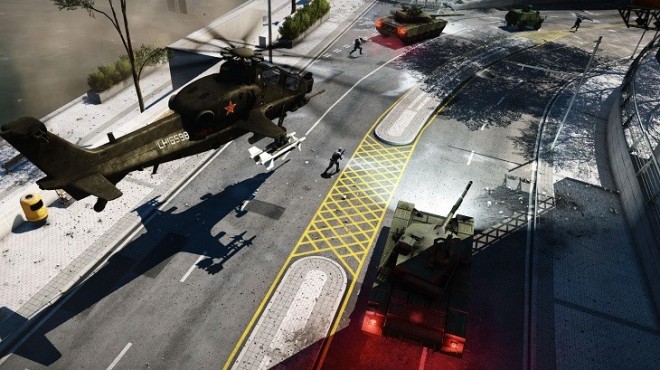 The recently unveiled China Rising DLC for Battlefield 4 was mired in issues, after players experienced trouble with the installation of the content. It has been now revealed by DICE that the bombers in China Rising DLC were originally pilotable and players were able to control them.
This was revealed by Craig McLeod, game producer at DICE, who added that the reason this feature was dropped was mainly because the planes were too huge and it was difficult to maneuver them. He also explained that players would have been left with a frustrating experience in the end.
"The bomber is an H-6 for Chinese and Russian teams, and for the US side it's the B-1 Lancer. This is tied to one of the central capture areas, so when own that flag you can enter into the command trailer which 'teleports' you into the gunning position of the bomber," McLeod told VG247.
DICE Halts all Future Projects To Fix Battlefield 4 Issues
In what was turning into a embarrassing experience for DICE, the pile of problems with its DLC and patch launch were mounting and even the fixes that were released were problematic to some players.
DICE has hence stepped up and taken complete responsibility and now has decided to concentrate all its energy in fixing the problems related with Battlefield 4 launch.
The studio has revealed that it has halted all "future projects" and other expansions to concentrate completely on Battlefield 4.
"First, we want to thank the fans out there that are playing and supporting us with Battlefield 4," an EA spokesperson said in a statement, Polygon reported.
It has said that the game has been given top priority by the studio to solve all the issues. "We know we still have a ways to go with fixing the game - it is absolutely our number one priority," said the publisher.
The statement further said, "Since Battlefield 4 China Rising expansion pack was already in the final stages of development by the time issues began with Battlefield 4, we decided to fulfill our promise to deliver it this week, but we're not moving onto future projects or expansions until we sort out all the issues with Battlefield 4. We know many of our players are frustrated, and we feel their pain. We will not stop until this is right."
EA's release of China Rising DLC was bogged down by numerous problems across platforms with server crashes and players being dropped, booted or being unable to connect to severs.
EA has asked players to visit Battlefield 4 Control Room website to post their queries and to keep an eye on the updates.
China Rising DLC was released on 3 December 2013.